Basketball at The Finley Center in Hoover Met Complex excites the community of Hoover, AL
Hoover, AL (PRUnderground) April 4th, 2018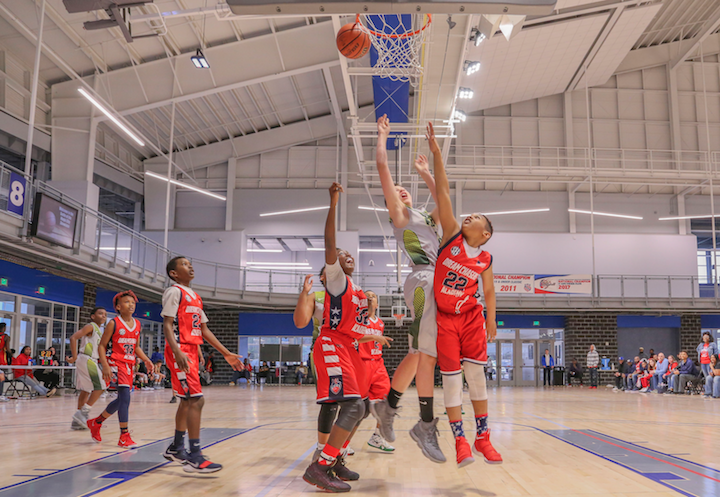 Talk has a way of swirling around and spreading like wildfire. Such was the case among basketball fans in the Hoover and Birmingham areas when Blue Chips Sports hosted the "Battle of the Magic City" at the beautiful Finley Center managed by The Sports Facilities Management, located in Hoover, Alabama, in late March 2018. The tournament created a buzz unlike any other, and the tournament had a turnout with thousands of visitors over the weekend, with high levels of excitement and comradery to round out March Madness and the breathtaking season that it has been.
The tournament featured over 175 teams from the host state of Alabama, as well as many other states including: Georgia, Florida, Mississippi, Ohio, Texas, Oklahoma, Connecticut, Indiana, Maryland, Tennessee, Kentucky, New York, North Carolina, Arkansas, Louisiana, Virginia, and Washington, D.C. While attendance for the weekend was tremendous, there were only a few seats available for standing room when the 7th grade North Coast Blue Chips team featured the 14-year-old son of LeBron James, "Bronny", who took the floor. Lebron James Jr. ("Bronny") was not the only potential future star to play in this year's tournament. Rising star and 8th grader, Jarace Walker of Team Thrill from Maryland, wowed the crowd with an array of slam-dunks and had the crowd going wild during the exciting tournament. Walker is considered by some to be the #1 prospect for the class of 2022.
"Compared to all of the tournaments that I have put on, Hoover has the best facility as it pertains to space, court layout, and professional staff. Because the city of Hoover, AL, is centrally located, talented teams come from all over the country making this the most competitive tournament that I put on in the Southeast", says tournament host Clyde Jackson of Houston, TX. Jackson also hosts tournaments in Texas, Ohio, and Indiana. With the success of the 2018 tournament at Hoover Metropolitan Complex, plans are already being made to make the 2019 "Battle of the Magic City" bigger and better than ever before.
About Hoover Metropolitan Complex
The Hoover Metropolitan Complex is a world class, multi-sport and event facility located in Hoover,
AL just 10 miles south of Birmingham. The state-of-the-art Finley Center includes more than 83,000
square feet of uninterrupted multi- purpose space, which can host up to 11 basketball or 17 volleyball
courts, a 1/5 mile walking track, and a full service food court. Phase II of the Hoover Metropolitan
Complex will feature five NCAA regulation-size baseball/softball fields, five multi-purpose fields
suitable for NCAA regulation soccer, football, and lacrosse, 16 hard tennis courts, a playground, and
a splash pad.
Press Contact
Name: Gary McClendon

Phone: 205.739.7366

Email: GEMcClendon@HooverMetComplex.com

Website: www.hoovermetcomplex.com
Original Press Release.