New System Connects Schools to State Immunization Registries, Easing Compliance for Nurses & Parents
Phoenix, AZ (PRUnderground) February 14th, 2018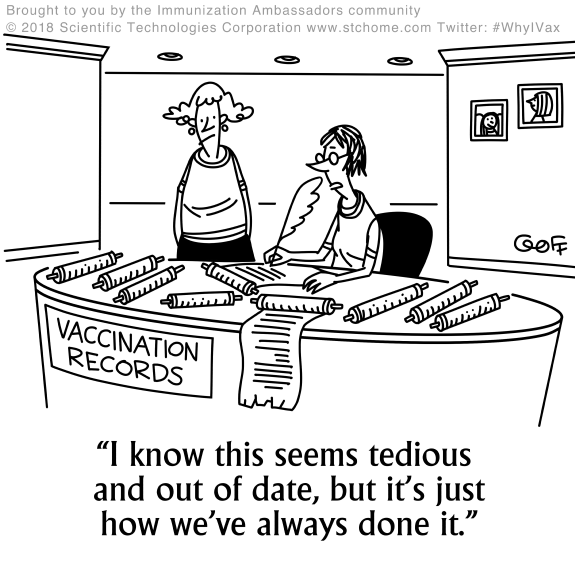 The Immunization Ambassadors, the advocacy group of STC (Scientific Technologies Corporation), a leader in immunization intelligence™, today released a new report on the effects of connecting school nurses to state immunization registries. The author of the report, syndicated columnist Dale Dauten, points out that "School nurses are the TSA of disease prevention," and quotes STC Medical Advisor, Dr. Scott Hamstra as saying, "the vaccinating of children is an overwhelming success, with fewer than 1% of American kids having gotten no vaccines at all." A major contributor to that success are all the school requirements for immunizations, and it falls to school nurses to enforce those requirements, a time-consuming and thankless burden.
Now, however, the folks at PSNI (Professional Software for Nurses, Inc.) are taking away the tedium and generating thank-yous for their 10,000 SNAP Health Center software users. Tami Lariviere of PSNI describes how it's working for a school nurse with PSNI software in a state that allows full information exchange with the state immunization registry via STC's Immslink:
"In the same 2-3 minutes a school nurse used to spend inputting one record for one student, she can now push a button to query the immunization registry and all the student vaccines will import into SNAP in seconds.  This can be done for an individual student, a classroom, a grade, or even the whole school at one time. And there's no confusion about whether or not it's the right form of the vaccine."
STC's Nick Harrar, who is responsible for coordinating registry data for nurses using SNAP, reports a brisk start to the new service. The first 18 schools to become operational, in 10 states, have already initiated 128,000 secure HL7 queries in just the first 90 days.
In addition, the Immunization Ambassadors released a new cartoon making light of old-fashioned record-keeping systems.
About Scientific Technologies Corporation
Tens of thousands die each year from the flu. New measles cases occur even though it was all but eradicated. Whooping cough still kills the young. These and many more diseases are diminished through the use of vaccines, public health prevention programs, and data intelligence. STC, through our innovative technology solutions and consultancies, is on the front line of this battle with its mission to create a healthier future. Ideas Start Here!
Press Contact
Name: Lara Popovich

Phone: 480-745-8500

Email: marketing@stchome.com

Website: www.stchealth.com
Original Press Release.