PGA Tour Superstore reported a record fiscal year in 2017. What's the secret?
February 13, 2018 at 13:42 PM EST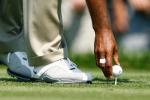 A beleaguered golf industry could be on the rebound, as the PGA Tour Superstore announced its 2017 performance -- its best year yet at 23% overall sales growth and 15% same-store sales growth year-over-year.