Stand 8C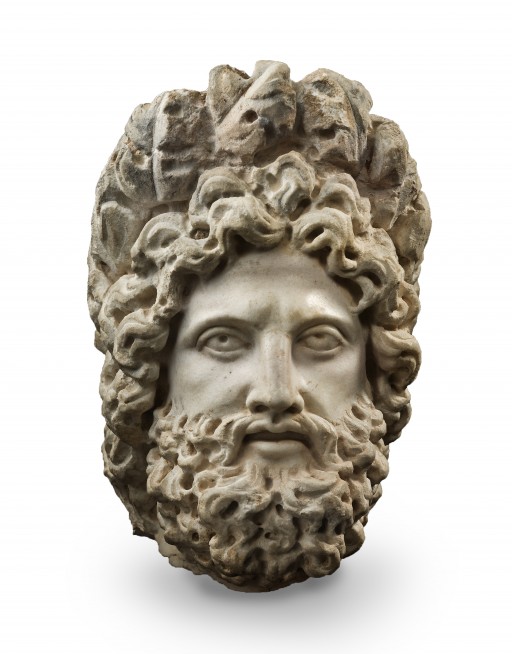 BRUSSELS - February 1, 2018 - (
Newswire.com
)
From January 27 to February 4, the Tour & Taxis Exhibition centre in Brussels has been transformed into a museum-like destination of high profile luxury and art with over 130 exhibitors from around the world participating in the BRAFA art fair this year. Phoenix Ancient Art and Hicham Aboutaam are of the elite group who have been able to create a unique and memorable stand within the fair for their 14th year in a row.
"BRAFA has once again given us the opportunity to showcase masterpieces ranging from Cycladic and Mycenaean art to bronzes and marble from the Greek and Roman worlds, and even works of Japanese art," says Hicham Aboutaam, president of Electrum, the New York agent for Phoenix Ancient Art.
One of the highlights of the show is an ancient Roman marble head of Zeus, the god of all gods, dating from the 2nd century A.D. This stunningly carved head is crowned with a luxurious wreath of deeply carved oak leaves tied at the back. The specific treatment of central locks of hair above the forehead as a kind of anastolé and the symmetrical layout of locks in the beard link this head with the type known as Zeus Otricoli after the monumental marble head on view in the Vatican Museums.
BRAFA will be open at Tours & Taxis, Brussels from 11 a.m. – 7 p.m. on Jan. 27- 31, 11 a.m. – 10 p.m. on Feb. 1, and 11 a.m. to 7 p.m. on Feb. 2- 4, stand 8C.
ABOUT PHOENIX ANCIENT ART
With galleries in New York City (Electrum) and Geneva, Switzerland, Phoenix Ancient Art is one of the world's leading dealers in rare and exquisite antiquities with a focus on Greek and Roman, Near Eastern and Egyptian art. Its works of art have been acquired by world-class museums around the world, as well as by private collectors. Phoenix Ancient Art is a second-generation family business that was founded by Sleiman Aboutaam in 1968 and continues today under the leadership of his sons, Hicham and Ali Aboutaam.
For more information contact info@phoenixancientart.com or visit www.phoenixancientart.com.
Contact:
Alexander Gherardi
Electrum, agent for Phoenix Ancient Art
212-288-7518
Related Links
Phoenix Ancient Art
Press Release Service by
Newswire.com
Original Source:
Phoenix Ancient Art and Hicham Aboutaam Are Exhibiting in Brussels for the 14th Consecutive Year at the Major Art Fair: Brafa