Love Vibration Nation sub label R3UK scores a hit with techno legend Mikel Gil debut R3UK release of Techno Firefly in pre promotion. Pushes up release date by 10 days.
Florida (PRUnderground) December 13th, 2017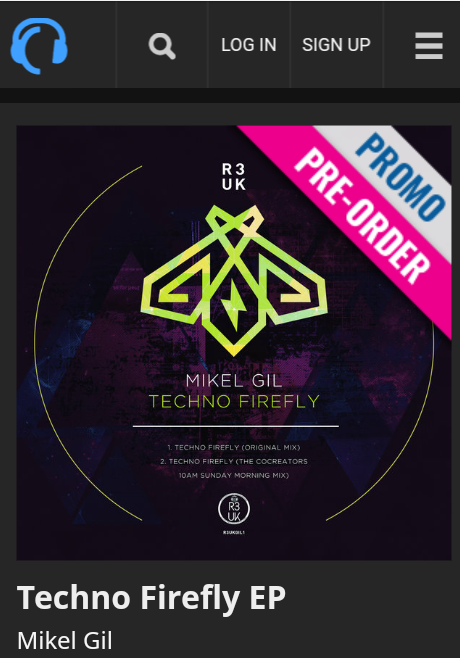 Can lightning strike twice? Apparently it does in Spain for Love Vibration Nation (LVN). After a stellar response to Coqui Selection debut LVN release Want You, the good news kept coming in from fellow Spaniard Mikel Gil's debut on sub label R3UK entitled Techno Firefly which is literally and figuritavely on fire!
Both LVN and R3UK recently entered contracts with MN2S for distribution of electronic music to augement the distribution deal they already had in place through Sony. Mikel Gil's Techno Firefly was the first R3UK release with MN2S.
The verdict was quick with this release as global support poured in from name DJS around the world for Techno Firely, a funky techno release that wasn't afraid to be more musical than alot of current releases in the techno genre. Major players and tastemakers quickly gravitated toward the undeniable light of both mixes of Techno Firefly.
Soundtraffic Magazine "This is good music. Period. Mikel Gil takes musical risks and is too cool for school. It works. You have our full support and feature." 
"Will support and play on our show. Nice one!" Technobrat 93.1FM 89.1FM
Divimass "Feel good in this morning with The CoCreators 10 am Sunday mix of Techno Firefly by Mikel Gil. Major Support."
"Very deep and dark. Full Support both mixes. Great release. This is the future of techno!" Karim Siala
Benji Candelario "Techno firefly is a very good tune for sure!"
 Top Influencers supporting this release include:
Luigi Madonna, Richie Hawtin, Horse Meat Disco, Jey Kurmis, Jochem Hamerling Boiler Room TV, Techno Brat, Soundtraffic Magazine, Luca Fabiani, Salla Sadeq, Karotte, D Projekt, Sergio Matena, Radio France, Kenny Brian, Jonty Skruff, Olderic, DJ Rim K Buzz Radio, Kiss FM Australia, Jewel.De, Different Grooves, Andi Durrant, Nino Alterverso Radio, Wookie Boy Loco LDN Radio, Karim Siala, Hernan Serrao Proton Radio and many more. 
Techno Firefly has also charted in several charts including the December Dubiks Progressive Tech Chart where The CoCreators 10am Sunday Remix of Techno Firefly debuted at number 25:
https://dubiks.com/2017/12/04/top-30-progressive-tech-playlist-chart-december-2017/
Mikel Gil Techno Firefly EP is available now exclusively on Traxsource through December 29th. 
https://www.traxsource.com/title/905867/techno-firefly-ep 
"We were thrilled to get an underground artist like Mikel Gil to sign with R3UK" Says LVN President Marco DiCristo. " His Lonely Owl imprint is recognized as cutting edge and his Kloset Party Techno tour has become legendary this past year. That being said, Techno Firefly almost didn't happen. You see Mikel had a fire and his MAC book was actually in flames (Picture is in this article) so he had to recover it from his hard drive. Thank God all worked out great with the tremdous support for his release. #LoveTheUnderground."
Mikel Gil commented. "I am very happy to see such a loving response on Techno Firefly. They guys on LVN and R3UK have been great. Being with a label that is all love and no drama is a good positive thing for me now. This past year I got to know my fans quite well with my global Kloset tour. The timing of this release is good to continue that relationship. To show my love for my fans and supporters I am taking the next couple of weeks off to create my next tracks to continue the love affair stronger than ever. Thank you all for your encouragement and support. I am looking forward to my next release with R3UK. They love the undergound music as much as I do."
About Mikel Gil:
Mikel Gil is the owner of Lonely Owl Records and currently playing in his world touring Kloset Party. He has played in clubs around the world like Terraza (Barcelona), Sky Underground New York, Killer Nights (Berlin), Dot Underground club (Hamburg Germany) , Kloset Open Air (Italy), Santos (Ibiza Spain), Es Paradis (Ibiza Spain) and many more clubs around the world.
His music has been played by top DJs around the globe like Richie Hawtin, Stefano Noferini, Jen Claude Ades, and Lead Dobricic and others.
About Love Vibration Nation Music and Publishing LLC
Love Vibration Nation Music and Publishing LLC is a record label and publishing company specializing in House Music. We are members of the American Society of Composers, Authors and Publishers (ASCAP) since 2016. The label's music is distributed under Sony Music Group umbrella & MN2S (https://mn2s.com/label-services/) aggregated to 300 plus of the top stores and music streaming services around the world.
Love Vibration Nation Music and Publishing LLC is the home of The CoCreators.
Love Vibration Nation solely operates and owns sub Label R3UK, specializing in underground house music genres.
Press Contact
Name: Marco DiCristo President

Phone: 407-906-4572

Website: http://www.lovevibrationnation.com
Original article: R3UK keeps winning with strong pre promotion results of Techno Legend Mikel Gil Techno Firefly.