First LVN release on MN2S debuts number 9 on Dubiks Chart, supported by Toca Disco, Roger Sanchez, Oscar L, Richie Hawtin, Chris Fortier, Luigi Madonna & many more!
Global Release (PRUnderground) December 13th, 2017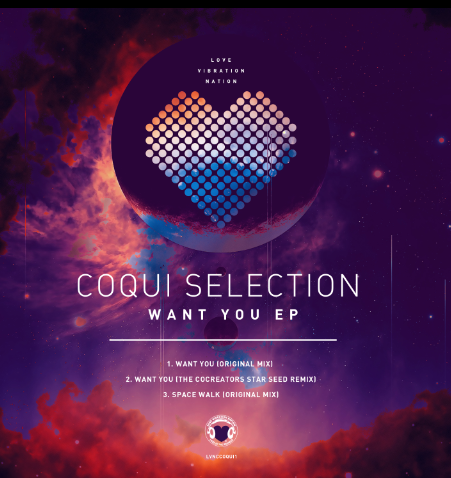 Coqui Selection's debut release on Love Vibration Nation (LVN) has caught fire for the fast growing label in pre release promotion returns globally. Entitled, Want You, the Spanish Techno EP has commanded attention and support from the who's who in electronic music around the world. This is the first music release LVN has done since signing a 3 year contract with MN2S to bolster its electronic music distribution in concert with its existing distribution deal through Sony.
Here are some taste maker comments from first wave of promotion.
Euphoric Magazine says " Amazing Work!"
Lazzaro Leon Billboard "Space Walk is sick. Very strong release!"
Sebastian Oscilla Ibiza Global Underground Radio Says "Stellar release all around. All tracks are simply amazing!"
Soundtraffic Magazine "Great release and full support."
Early Supporters include:
Rober Sanchez, Oscar L, Toca Disco, Richie Hawtin, Chris Fortier, Luigi Madonna, Andi Durrant, Kiss FM Australia, Global Dance Sessions, Luca Fabiani, Technobrat, Andrea Mazzo, Tim Benjamin, Sean Norviz, M2o Radio Italy, Sebastian Oscillia Ibiza Global Underground Radio, Lazaro Leon Billoboard Chart Compiler, Legendary DJ Benji Candelario, Blake Jarrel, Hernan Sarrao Proton Radio, Karim Siala, Diiferent Grooves, Acid Ted, Albert Marzinotto, Karotte, Eurphoric Magazine, Soundtraffic Magazine, Olderic, The Abyss Radio 98.7 FM, DJ PP, Juanfra Munoz, Kenny Brian, Eelke Kleijn, Nino Altroverso Radio, Nico Deciglia, Underground Televiv, Mark J Barcelona Connect Radio, Sp1der Viscious Radio Mallorica FM, Sergio Matina, and Paolo Tossio S Dance Live Radio 96.1 F.M.
The list keeps growing and growing by the day.
After confering with Chris James, Label Manager MN2S, the decision was made to push up the Pre Order date on traxsource by ten days because of the growndswell of support.
Traxsource followed suit by fulling supporting the release through it's techno and tech house label management departments.
Want You is available exclusive on Traxsource in pre order now exclusively through December 29.
https://www.traxsource.com/title/905865/want-you-ep 
The CoCreators mix of Want You has already charted in pre order on the well respected Dubiks Progressive Tech chart for December with a very strong debut at number 9.
https://dubiks.com/2017/12/04/top-30-progressive-tech-playlist-chart-december-2017/
"This is a big one for us. What a great start to our contract with MN2S!" Says Marco Dicristo, President, Love Vibration Nation(LVN). "It was a pleasure to have the opportunity to work directly with a legend like Coqui Selection on this project and also as an artist with The CoCreators remix of Want You. The Want You EP is much more than people will expect from Coqui Selection artistically. His music has been consistent and funky for over 2 decades, played by the biggest DJs around the world but he streatched the levels of imagination and artistry with this EP. So many beautiful layers of lush sounds. Even for a guy with his top 100 DJ status this one sticks out as exceptional. We want to thank Coqui Selection, MN2S, Sony, Traxsource, Radio around the world, All DJs large and small for their support of this EP. We love you all. #LoveIsTheAnswer."
"I am very happy being part of Love Vibration Nation with this release. Says Coqui Selection. "They believe very much in the release and did good jobs on the remixes too. Very professional. They have hope in this project and thats the most important thing to me. People can feel and feed off that off their Love Vibe. Great energy and many thanks to all who support."
"Love Vibration Nation and Coqui Selection signed a 3 EP deal with several options as well. Want You is the first of the the three releases that we will do together. Judging by how well it's progressing and being received world wide, we look forward to the other 2 releases entitled Selecta and The Mexican due first part of 2018 with baited breath and anticipation." Says Marco DiCristo President LVN.
Chris James Distribution Manager of MN2S added "This DJ and Radio promotion looks great. An exceptional release here with Coqui Selction and a great start to our dealings with Love Vibration Nation. We look forward to our releases with them in the 2018 calendar and beyond."
More promo Links Here:
http://www.pressparty.com/pg/newsdesk/reachpromo/view/172292/
https://www.ihouseu.com/music/want-you-ep.html-0
http://www.feeder.ro/2017/12/01/coqui-selection/
About Coqui Selection;
Coqui Selection's sets are characterized by their tremendous energy and for having a merge of different styles which are presented in an explosive cocktail of sensations connecting to the dance floor. He is pure energy at the booth. His performance level of production is simply spectacular. Over the past two years he has released his tracks in the most important national and international record labels such as: SPINNIN, STEREO, NERVOUS, HOTFINGERS/ 303LOVERS, STARLIGHT, WAZZUP, PACHA, PORNOSTAR, MJUZIEEK, SNEAKERZ, WORK, BEATFREAK,SHINSHY, DARKSIDE, UNDERCOOL, BLANCO & NEGRO, HED KANDI, DIAMONDHOUSE, TACTICAL, SOULFURIC ,MUZICASA, MARFIL, BEDROOM and VAMOS MUSIC among others. During the past year he has released more than 60 tracks, including original ones and remixes for other people, which has placed him in the top 100 DJs with virtually all of his pitches at the major download music websites worldwide. He has also won several No.1 prizes both in House and Tech-House genres.
About Love Vibration Nation Music and Publishing LLC
Love Vibration Nation Music and Publishing LLC is a record label and publishing company specializing in House Music. We are members of the American Society of Composers, Authors and Publishers (ASCAP) since 2016. The label's music is distributed under Sony Music Group umbrella & MN2S (https://mn2s.com/label-services/) aggregated to 300 plus of the top stores and music streaming services around the world.
Love Vibration Nation Music and Publishing LLC is the home of The CoCreators.
Love Vibration Nation solely operates and owns sub Label R3UK, specializing in underground house music genres.
Press Contact
Name: Marco DiCristo President

Phone: 407-906-4572

Website: http://www.lovevibrationnation.com
Original article: Love Vibration Nation Announces Massive Pre-Release Support for Coqui Selection Want You EP.