$1,000,000 deal of PerksCoin (PCT) with First Bitcoin Capital Corp. (WeedCoin) in an exclusive deal involving an ICO and a cryptocurrency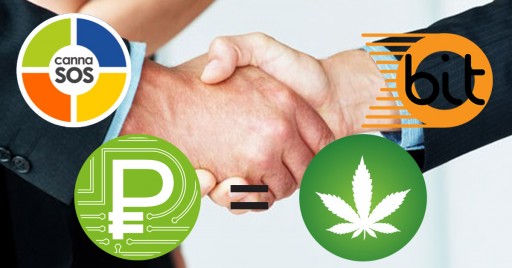 TORONTO - December 4, 2017 - (
Newswire.com
)
CannaSOS is proud to announce a partnership deal of $1,000,000 with First Bitcoin Capital Corp. under its consortium of cannabis businesses. This deal will increase the distribution of PerksCoin in the marketplace and its use in the cannabis industry. 
The cannabis industry is facing a lot of revolutionary changes, changes that are happening at an unprecedented rate. CannaSOS, a marijuana social media leader, has responded to the changes and will be implementing a PerksCoin Transaction Platform that will act as a mediator/arbitrator between the seller and buyer and offers a Secure Sale feature to protect buyers from unverified sellers, minimizing fraudulent activity within the marketplace. With the help of the PerksCoin Transaction Platform, PerksCoin will also be self-regulated through the emission and the withdrawal of PCT tokens from circulation. This will solve a major problem that all governments around the world are currently experiencing with Bitcoin and other major cryptocurrencies.
First Bitcoin Capital Corp. believes that PerksCoin and the PTP will be the solution for the cannabis industry's problems on a global scale which is why they have invested $1,000,000 of their WeedCoin, which is already traded on cryptocurrency exchanges, into the PerksCoin ICO. 
"We are seeing now more than ever an interest in global solutions that don't rely on borders, regional regulations and restrictions. The PerksCoin Transaction Platform is the answer," commented CannaSOS CEO Oleg Cheine. 
The deal with First Bitcoin Capital Corp. will help with the development of its CannaBloq which will include seven initial member companies under a consortium of cannabis businesses. First Bitcoin Capital Corp. is the first publicly traded cryptocurrency and blockchain-centered company focused on developing digital currencies and proprietary Blockchain technologies. The deal with CannaSOS will further increase shareholder value through exposure to a diverse portfolio of blockchain technologies and cryptocurrencies.
CannaSOS, founded in 2014, is a social network and advertising platform designed for the cannabis industry with over 315,000 active users, 1,000 business pages and 225 social groups.
Media Contact: 
Daniel Cheine
Phone: 416 893 2390
Email: danielc@cannasos.com
Related Links
PERKSCOIN (COIN: PCT) Crowdsale ICO Accepts $1,000,000 of $WEED (COIN: WEED) From First Bitcoin Capital Corp.
CannaSOS PerksCoin ICO Page
Related Files
WHITEPAPER TBD V8.1.pdf
Press Release Service by
Newswire.com
Original Source:
PerksCoin Closes Massive Deal With First Bitcoin Capital Corp. Under Its Consortium of Cannabis Businesses