Entertainment agency Breezin' Entertainment & Productions was met with praise by Tampa's mayor as he discussed the company's many contributions to Tampa Bay.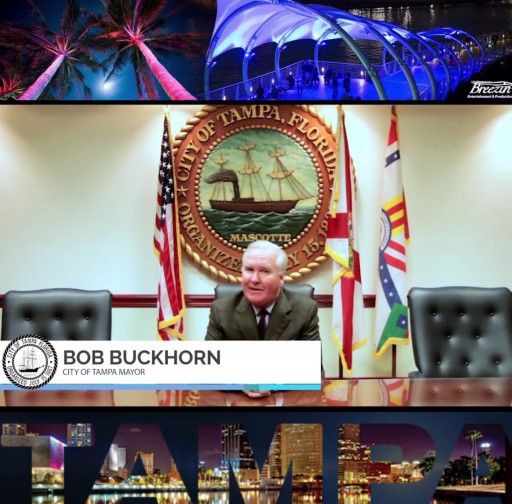 TAMPA, FLORIDA - June 26, 2017 - (
Newswire.com
)
Tampa has proven itself to be a city that is brimming with life; professional sports teams and their stadiums, relaxing waterfront districts, and a downtown area filled with vibrant culture are only a glimpse into the many attractions that the city offers to both residents and visitors alike.
At the helm of the city's operations is Tampa Mayor Bob Buckhorn, who has been serving in this position since 2011. Bob Buckhorn, as any competent mayor should, is always looking for ways to benefit the city of Tampa. As such, he has taken a step back and contemplated what the outstanding features of Tampa are. One small business, in particular, has separated itself from the many others in the region.
Breezin' Entertainment & Productions is an entertainment agency with a solid, reliable network of entertainers that it has built over nearly three decades. They strive to provide not only premier, unforgettable entertainment, but also unparalleled customer service that mitigates the stress of their clients that often comes with organizing events.
Breezin' President and Owner Cindy Dervech founded the company in 1988 with the ambition that she would one day be a pivotal force in the Tampa entertainment market. Nearly 30 years later, she has accomplished exactly that. In 2016, the company celebrated being provided with the Small Business of the Year Award by the South Tampa Chamber of Commerce.
Mayor Bob Buckhorn has worked in the city of Tampa since the late 1980's, giving him a strong foundation of knowledge regarding the city's growth and development over the years. He has known Cindy Dervech for most of her career and confidently expresses that she is not only an intelligent, accomplished business owner, but also a powerful role model for his two daughters.
Buckhorn commented that he has "watched Tampa take on a whole new life" over the past 30 years and that Cindy herself has "been a big part of it." He went on to say that Breezin' Entertainment & Productions' events are unique due to the fact that they are "crafted for each individual client."
Buckhorn has been an attendee of many of Breezin's organized events, and he warmly declared that he "always walks away having a great time."
Breezin' Entertainment & Productions has provided a significant contribution to the city of Tampa in the form of countless successful events that span corporate and social functions, graduations, birthday parties, and weddings. The agency unfailingly provides clients with experienced, professional entertainers who have worked in virtually every sort of occasion.
Breezin's team includes coordinators that handle the entertainment booking and logistics process so that clients do not have to, allowing them to focus on other aspects of their event.
The mayor of Tampa has recognized Breezin's outstanding achievements, particularly their 2016 Small Business of the Year Award, which is something that "he cannot be prouder" about.
"She is one of Tampa's success stories," said Buckhorn. "As Tampa takes its next chapter to the next level, Breezin' Entertainment is going to be a big part of that."
Buckhorn has strong faith in Breezin' Entertainment & Productions to become even more successful in the Tampa market and looks forward to seeing how they perform in the coming years.
For more information or for press inquiries, please contact media relations liaison Dana Blickensderfer at info@ibossadv.com or call 813-775-7107.
About Breezin' Entertainment & Productions
Breezin' Entertainment & Productions is a wedding, corporate, and social entertainment specialist that offers unparalleled entertainment services to its clients. Breezin' Entertainment's mission is to create experiences through entertainment! As ambassadors of fun, the team at Breezin' Entertainment aims to provide a unique level of customer service to ensure that clients are left completely satisfied. Once a client books with Breezin' Entertainment & Productions, the company will handle the rest!
Founded in 1988 by Cindy Dervech, Breezin' Entertainment & Productions has been a top-tier entertainment provider in the Tampa Bay area for almost three decades. Specializing in weddings, corporate events, and social functions, Breezin' tailors their entertainment services to your occasion.
As a licensed, bonded, and insured business [License #TA-000378], Breezin' Entertainment is a company founded on transparency, communication, and trust that aims to provide the client with premier customer service that cannot be found elsewhere.
Breezin' Entertainment provides fast, detailed, organized, and reliable entertainment that clients can count on. Book your next event today by calling 813-701-3523 or by visiting https://www.breezin.com/
Related Links
Website
Documentary
Press Release Service by
Newswire.com
Original Source:
Tampa Mayor Bob Buckhorn Commends Breezin' Entertainment & Productions for Its Contribution to the City