Cybersecurity firm 24By7Security presents incident response workshop
March 10, 2017: Sanjay Deo, President of 24By7Security, Inc., led a very well received incident response workshop at South Florida ISSA biennial conference.
(PRUnderground) March 11th, 2017
Incident response is a vital, but sometimes underrated part of Cybersecurity these days.   It was therefore timely that Sanjay Deo, President of 24By7Security, Inc. a well-known Cybersecurity firm conducted an incident response workshop at the biennial conference hosted by South Florida Information Systems Security Association (ISSA) at the Signature Grand in Fort Lauderdale on March 19, 2017.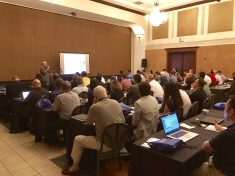 Sanjay Deo and Michael Brown of 24By7Security presented this engaging workshop dealing with the various aspects of incident response.   While Deo, who also runs the CISO forum in South Florida, introduced the subject and went through the overall process, Brown, who is Vice President of the SF ISSA chapter, delved into specifics of incident response and its testing.   With the belief that it is not a matter of "if" a cyber incident occurs but "when", this incident response workshop came at an opportune moment.  Audience participation was spirited and there were several questions on compliance matters and especially in how compliance affects the need and methods of incident response planning and notification in the event of a breach.
The overall event was well organized by the South Florida chapter of ISSA with several sponsors and attendees.    Look out for more events in future.    Such events are vital to promote cyber security awareness and keep security top of the mind for businesses and individuals.
For media inquiries regarding 24By7Security, Inc. or to request presentations, workshops or webinars,  individuals are encouraged to contact the company via email at contact@24By7Security.com or via Twitter @24By7Security.  To learn more about the company, visit www.24By7Security.com.
About 24By7Security, Inc.
24By7Security, Inc. is a full service Cybersecurity strategy, implementation, operations and training firm. Our leadership consists of Cybersecurity experts with hands-on experience and have served in various capacities such as Chief Information Officer (CIO), Chief Information Security Officer (CISO), and active-duty top-secret roles. We provide various Cybersecurity consulting services for multiple industries nation-wide. In addition to general Cybersecurity experience, we are experts in regulatory compliance requirements for HIPAA/ HITECH, FFIEC, FIPA, FERPA, GLBA, PCI-DSS, NY State Cybersecurity Regulations, SOX, NIST-CSF, ISO/IEC 27001 and CFPB/ DFA. We provide Cybersecurity-related services like Security Risk Assessments, Vulnerability Assessments, Penetration Testing, Part-time CISO services, Part-time HIPAA Security Officer services, Policies and Procedure, Social Engineering Testing, HIPAA and Security Awareness Testing programs, Data Breach assessments, Incident Response planning and management services and forensics and recovery. We work with the areas of Strategy, Internal Audit Support, Assessments, Remediation and Training. Our goal is to avoid unnecessary risk to businesses and prevent the next generation of threats that could undermine the stability of companies.
Press Contact
Name: Rema Deo

Phone: 844-55-CYBER ext. 708

Email: contact@24By7Security.com

Website: 24By7Security.com
Read full release at PRUnderground.com: Cybersecurity firm 24By7Security presents incident response workshop.