We all know what makes a good CEO - a leader that keeps shareholders happy with steady growth, fattening profits, and, for good measure, rising dividends.
The worst CEOs lose their grip on their companies and lose the faith of shareholders, customers, and, in the end, their board of trustees.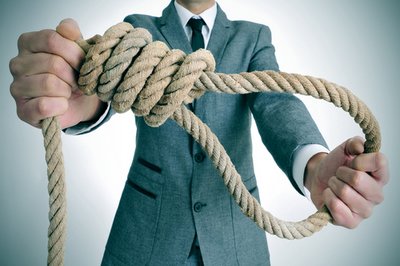 That's when they also tend to lose their jobs.
We've already seen several of the worst CEOs of the past few years get shoved overboard, such as Steve Ballmer of Microsoft Corp. (Nasdaq: MSFT) and Ron Johnson of J.C. Penney Co. Inc. (NYSE: JCP).
And these days more CEOs are worried about losing their jobs. A survey of 100 chief executives late last year by RHR International revealed rising anxiety: two-thirds (67%) of the CEOs reported that increased stakeholder scrutiny was affecting their perception of job security, up from 45% from the previous year.
So who's next?
We found seven of the worst CEOs who still have their jobs - but won't for much longer.
Worst CEOs - The Not-So-Magnificent Seven
At one time an inspirational story - Ursula Burns made history as the first African American CEO of a Fortune 500 company when she was named to the post in 2009 - her tenure at Xerox has been marred by missteps. The biggest was her $6.4 billion acquisition of Affiliated Computer Services in early 2010, which was supposed to add to Xerox's revenue growth. It didn't. In fact, both revenue and income since 2010 are flat to down. And the situation is not expected to improve this year. Burns has a lot of friends on the Xerox board, but eventually they'll have no choice but to put friendship aside for the good of the company.

Abercrombie & Fitch has bounced back a little in 2014, but the stock is still down about 40% from its 2011 highs. The drop came as CEO Michael Jeffries let Abercrombie fall behind competitors like The Gap Inc. (NYSE: GPS) and Urban Outfitters Inc. (Nasdaq: URBN). Following a long slide in earnings, gross margin, and same store sales, the Abercrombie board earlier this year stripped Jeffries of his chairman title, a partial response to several large shareholders who wanted him out altogether. His employees aren't fans, either, as only 28% approve of him on Glassdoor.com. For Jeffries, the clock is getting close to midnight.

Follow me on Twitter @DavidGZeiler.
UP NEXT: No matter how well or how poorly a CEO runs their company, they are almost always extremely well compensated. As of this year, CEO pay averaged $7,000 an hour - 350 times that of the typical U.S. worker. But that's just the average. Wait until you see what the top 10 most highly paid CEOs are raking in...
Tags:
CEOs in America
,
CEOs to get fired
,
dow
,
investing in 2014
,
Investing in the stock market
,
Investing Today
,
market crash
,
market news
,
market news 2014
,
stock market 2014
,
stock market crash
,
stock market crash today
,
stock market news
,
stock market news 2014
,
stock market news today
,
stock market now
,
Stock Market Today
,
stock market trend
,
stock market trends 2014
,
stock market trends this week
,
stock news
,
stock news 2014
,
Stocks
,
stocks 2014
,
Stocks to Buy
,
U.S. CEOs
,
U.S. Economy
,
Wall Street
The post Worst CEOs in America: The 7 Chief Executives Most Likely to Get Fired appeared first on Money Morning - Only the News You Can Profit From.