Since the start of 2013, the U.S. IPO market has seen 410 companies go public. And some of the most successful stocks from that huge group have been Chinese companies.
But following the much-anticipated Alibaba IPO, BABA stock may trump them all.
According to research by Bloomberg, the 10 largest Chinese companies to hold IPOs in the last year have seen an average return of 44% since they went public. In the same time, U.S. stocks holding IPOs of at least $100 million have averaged a gain of just 25% since hitting the market.
Chinese online classified company 58.com Inc. (NYSE ADR: WUBA) has been the biggest winner so far. On WUBA's first day of trading in October, the stock climbed 42%. WUBA stock opened today at $49.22 - a gain of 189% from its offer price.
Chinese automobile information website Autohome Inc. (NYSE ADR: ATHM) returned 77% on its first day in December, and 126% overall. JD.com Inc. (Nasdaq ADR: JD), a Chinese online direct-sales company, is up 47% since going public in May. JD had a first day "pop" of 10%. Online retailer Jumei International Holding Ltd. (NYSE ADR: JMEI) is up 42% since its May IPO, including a first-day return of 10%.
"There is a lot of investor excitement around the group, especially ahead of Alibaba," Susquehanna Financial Group LLP's technology, media, and telecom analyst Kurt Ayling told Bloomberg in June. "Investors generally feel they need some sort of exposure in China once again."
The main reason these Chinese stocks are hitting the ground running is the explosive growth of China's Internet and e-commerce industries. And investors want in on the action...
Profiting from the World's Largest E-Commerce Market
"The number of consumers and business folks connected to the Internet in China - whether you're talking about computers, tablets, or smartphones - is bigger than the entire U.S. population," Money Morning's Executive Editor Bill Patalon said. "And the government there is actually pushing growth. Beijing has mandated that 1.2 million folks - 85% of its population - will have broadband connections (3G or 4G) by 2020."
That Internet growth goes hand-in-hand with e-commerce growth. This year, China supplanted the United States to become the largest e-commerce market in the world.
And it shows no signs of slowing down...
"Online-shopping spending in China reached $298 billion last year, easily surpassing U.S. sales of $263 billion," Patalon said. "According to German research firm yStats, China's consumer e-commerce market soared more than 60% in 2013."
Alibaba Group Holding Ltd. (NYSE: BABA) is by far the largest e-commerce company in China, and roughly 80% of all online transactions that take place in the country happen on its network of sites. It's positioned perfectly...
"Alibaba is the dominant e-commerce player in a marketplace in China," Patalon continued. "According to the research I've seen, e-commerce in China is projected to hit $540 billion by 2015, and that's just for starters. By 2020, China's e-commerce market will be worth more than the United States, the United Kingdom, Japan, Germany, and France combined. So we know that growth is coming... and we know that Alibaba is the No. 1 gun."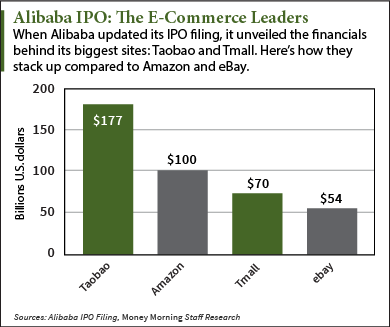 Alibaba already handles more online transactions than Amazon.com Inc. (Nasdaq: AMZN)and eBay Inc. (Nasdaq: EBAY)combined.
In 2013, Alibaba's most popular site, Taobao, handled $177 billion in transactions. Approximately $70 billion exchanged hands over Alibaba's second-largest site, Tmall, during the same time. Amazon and eBay accounted for$100 million and $54 billion, respectively.
The effects of the market's growth, and increasing investor interest in the sector have brought double-digit gains to JD and JMEI stock in just three months. WUBA and ATHM have seen triple digit gains in less than a year.
Given Alibaba's size and command of the market, it very well could trump all of those stocks.
"Despite the torrid growth, China is still very much an online market in development - meaning the profit opportunities are huge," said Patalon.
But investors don't have to wait until the Alibaba IPO date to begin playing this IPO. You can profit now. The best news about this looming IPO is that it has created a major profit opportunity that most investors haven't yet noticed... It's happening now, weeks before Alibaba hits the market...
In fact, this could be your one and only chance to make the kind of gains normally reserved for the high-net-worth investors and bankers. And there are three ways to play. You can learn more about this Alibaba profit opportunity here.
Share this Story on Twitter @moneymorning and @KyleAndersonMM using #Alibaba.

Related Articles:
Tags:
Alibaba IPO
,
alibaba ipo 2014
,
Alibaba IPO date
,
Alibaba IPO price
,
alibaba stock
,
baba
,
BABA stock
,
investing in 2014
,
Investing in the stock market
,
Investing Today
,
market crash
,
market news
,
market news 2014
,
NYSE: BABA
,
stock market 2014
,
stock market crash
,
stock market crash today
,
stock market news
,
stock market news 2014
,
stock market news today
,
stock market now
,
Stock Market Today
,
stock market trend
,
stock market trends 2014
,
stock market trends this week
,
stock news
,
stock news 2014
,
Stocks
,
stocks 2014
,
Stocks to Buy
,
U.S. Economy
,
Wall Street
The post Why the Alibaba IPO Will Trump China's Soaring New Stocks appeared first on Money Morning - Only the News You Can Profit From.