The second-quarter earnings parade continues Thursday with a barrage of earnings from some key sector players.
On tap to post results today are a new IPO darling, a niche electric car company, and a couple of oil giants.
8 Hot Stocks to Watch Thursday on Earnings Reports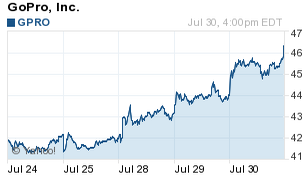 No. 1: GroPro Inc. (Nasdaq: GPRO) tops today's list of hot stocks to watch. The high-flying maker of hands-free cameras that captures daredevil stunts went public in late June. Shares more than doubled from their IPO price of $24 in the first four days of trading and presently sit around $45.90 a share. Just two analysts have weighed in with a Q2 forecast, which is for a $0.12 per share loss, according to Zacks Research. Ahead of the report, investors bulked up on bearish positions. Shares of the company that were lent out for shorting purposes doubled to nearly 4 million during the week that ended Tuesday, according to SunGard Astec Analytics. Short positions increased further Wednesday, with borrowing up an additional 10% in yesterday's morning session, Karl Loomes, market analyst at SunGard, told MarketWatch. Loomes noted, however, that short positions may be building due to recent share-price gains rather than expectations of weak earnings. GPRO earnings will be released after today's close.
No. 2: Tesla Motors Inc. (Nasdaq: TSLA) is also on tap to post Q2 numbers after the close. Expectations are for the electric car maker to post adjusted earnings per share (EPS) of $0.04 on revenue of $811 million. Whisper numbers have TSLA posting EPS of $0.15. The Palo Alto, California-based company could indeed surprise nicely to the upside. TSLA has gone from selling just over 2,500 units of its Model S sedan in 2012 to just under 20,000 units in 2013. For 2014, Tesla is eyeing 35,000 global deliveries. Tesla stock, up a whopping 51.61% year to date, is volatile and likely to see some big action following the report.
No. 3: Exxon Mobil Corp. (NYSE: XOM) will release Q2 earnings today before the open. The largest publicly traded integrated oil and gas company is projected to post Q2 EPS of $1.86, up from $1.55 a share a year earlier, according to FactSet. Revenue is seen coming in at $8.1 billion, compared to $6.9 billion in Q2 2013. Investors will want to hear about the energy giant's just-inked multibillion dollar deal with Russia's Rosneft. XOM, in partnership with Rosneft, is set to drill the world's most expensive well in Arctic waters this fall. The European Union imposed sanctions against Russia this week in response to Russian rebels in eastern Ukraine. The United States, which already has sanctions in place, could add more.
No. 4: ConocoPhillips (NYSE: COP) is scheduled to report Q2 earnings Thursday morning. Consensus estimates have COP posting a profit of $1.60 a share, up from $1.41 per share a year ago. Over the past three months, the consensus estimate has increased from $1.49. Revenue is expected to come in at $15.38 billion, 9% higher than the year-earlier tally of $14.14 billion. COP has enjoyed steady earnings growth for the last eight quarters, and for the last four, net income has increased year over year (YOY) by an average of 27%. Shares are up 19.08% since the start of the year, compared to XOM's 1.93% gain.
No. 5: Mastercard Inc. (NYSE: MA) is scheduled to release Q2 numbers Thursday morning. Expectations are for the credit card behemoth to post EPS of $0.77, up from $0.70 in the same quarter a year ago. The EPS whisper number is $0.79. Revenue is projected to be $2.31 billion for the quarter, 10% above the year-earlier total of $2.10 billion. The company has seen net income rise in three straight quarters. The 3% YOY growth in net income in the most recent quarter came after the 3% profit growth in Q4 2013 and a 14% rise in Q3 2013. Shares, down 9.46% year to date, have underperformed the broad market.
No. 6: Colgate Palmolive Corp. (NYSE: CL) will report Q2 earnings before the open. Estimates are for the world's largest oral care products manufacturer to report EPS of $0.73, up $0.03 from the same quarter a year ago. Whisper numbers have Colgate posting EPS of $0.74. Revenue is forecast to have increased to $4.40 billion from $4.35 billion. Colgate's Q1 was impressive with solid growth and rising revenue, yet shares slipped 0.3% in the following session.
No. 7: Kellogg Co. (NYSE: K) is expected to post EPS of $1.02 when the cereal giant reports Q2 numbers Thursday morning. Last quarter, Kellogg delivered a positive earnings surprise of 4.12%. But the company's signature U.S. cereal business, accounting for 40% to 45% of sales, has been performing poorly since 2012 due to sluggish category growth. More recently, Kellogg experienced cereal category weakness in other developed countries like the UK, Canada, and Australia. Still, the company felt comfortable enough to hike its dividend $0.03 to $0.49 per share earlier this week.
No. 8: Valeant Pharmaceuticals Intl Inc. (NYSE: VRX) is on tap to post Q2 numbers Thursday morning. The Canadian-based serial drugmaker acquirer is expected to report robust Q2 EPS of $1.21. VRX made headlines earlier this year with a hostile bid for Allergan Inc. (NYSE: AGN), backed by activist investor Bill Ackman. The $53 billion takeover battle between the two is still brewing, with Allergan vehemently opposed to any deal.
Now: Thinking of buying Amazon stock? Read this first. There's a giant threat that's about to challenge Amazon's dominance...
Tags:
earnings calendar
,
earnings reports
,
GoPro stock
,
GPRO
,
Hot Stocks
,
IPO calendar
,
stocks to watch
,
Tesla stock
,
upcoming ipos
The post GPRO, TSLA, XOM Top Today's Hot Stocks to Watch appeared first on Money Morning - Only the News You Can Profit From.