Americans' tastes are changing. They're forgoing fast food burgers and cans of cola for healthier options like freshly made burritos - specifically, from Chipotle Mexican Grill Inc. (NYSE: CMG).
Investors also appear to be making the switch, with Chipotle stock rewarding shareholders today.
The proof is in these just-released earnings reports and today's stock action from three major industry players.
Take a look...
Chipotle Stock (NYSE: CMG) Surging on These Numbers
Chipotle Mexican Grill Inc. (NYSE: CMG) stock climbed nearly 15%, or $72, to a 52-week high of $663.43 Tuesday morning after it reported strong earnings after Monday's close.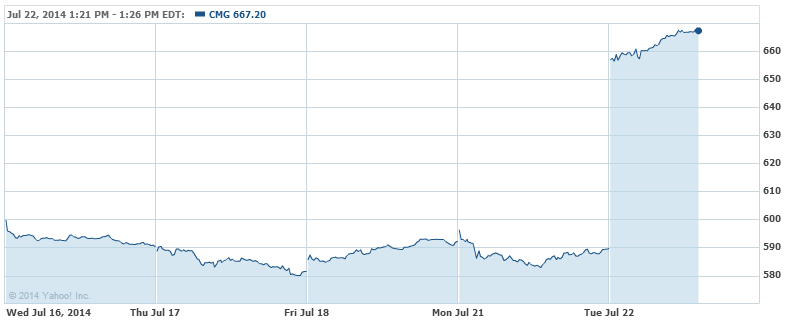 The Denver-based company earned $3.50 per share in the second quarter, handily above the $3.09 per share analysts were expecting and up from $2.82 reported in the same quarter a year ago. Net income jumped 25.5% to $110.3 million, up from $87.9 million year over year (YOY). Revenue rose 28.6% to $1.05 billion.
Same-store sales for restaurants open at least a year - a key measure of growth - climbed 17% in Q2. That marked one of the strongest quarterly sales rates in Chipotle's history as a public company, according to Chief Executive Officer Steve Ellis.
"These extraordinary results are made possible by our special food culture, innovative people culture, and strong business model," Ellis said in a statement.
Analysts say Chipotle has benefited from increased demand for fast food that is healthier and less expensive than what's available at traditional sit-down restaurants.
Chipotle has been rapidly expanding since it spun off from McDonald's in 2006. With $3.2 billion in sales last year, it ranks as the nation's biggest "fast-casual" Mexican food chain, according to Morningstar. The company opened 45 new restaurants during the quarter. For the full year, Chipotle expects to open 195 new restaurants.
The red-hot quarter came even as Chipotle hiked menu prices in April for the first time in three years. Chipotle, like many in the food industry, has been paying higher prices for key ingredients. Prices of steak, cheese, and avocados have all spiked this year due to droughts plaguing many parts of the country.
The company also provided upbeat forward guidance, expecting full-year sales growth in the "mid-teens."
As CMG enjoys success, some of its soaring sales come at the cost of losses to these two leaders in the food industry...
KO, MCD Slump After Earnings
Coca Cola Co. (NYSE: KO) stock fizzled Tuesday after posting uninspiring Q2 earnings. Shares slumped more than 3% intraday to $40.61.
The world's largest beverage company reported net revenue of $12.57 billion, down 1% from $12.75 billion a year ago and shy of the $12.85 billion expected. Earnings per share (EPS) came in at $0.64, up a small 1% YOY, yet better than the $0.63 expected.
Coke's worldwide beverage volumes improved a modest 3%, with soda volume growing a tepid 2%. That is, however, a rebound from the company's first soda volume decline since 1999 in the previous period.
The all-important North America market posted flat soda volumes. Volume for KO's noncarbonated beverages in the region grew 1%, although they were pressured by declines in juice and juice drinks as higher commodity costs drove price increases the company called "significant."
It's not just higher commodity costs weighing on Coke.
Health-conscious consumers are buying less soda, especially diet sodas flavored with artificial sweeteners, which some consider risky. Overall soda volumes sank some 3% in 2013, the ninth straight yearly contraction and more than double the 1.2% decline in 2012, according to Beverage Digest.
The same problem is hitting McDonald's Corp. (NYSE: MCD).
MCD stock slumped 1.5% to $96.09 after reporting disappointing Q2 earnings. Comparable sales in its struggling U.S. business fell for the third consecutive quarter, and sales in Europe declined for the first time in four quarters.
The world's biggest restaurant chain by revenue posted EPS of $1.40, $0.04 short of expectations. Total sales rose a meager 1% to $7.18 billion, missing the average analyst estimate of $7.29 billion.
Global comparable store sales were flat, missing the modest 0.8% gain expected. U.S. comparable store sales, which account for 30% of MCD's overall revenue, tumbled 1.5%, which was worse than the 0.3% decline expected. McDonald's U.S. comparable sales fell 3.5% in June and 1% in May.
"Results for the quarter reflected negative comparable guest traffic amid ongoing broad-based challenges," the company said.
Even more dispiriting, the company's outlook remains muted.
"Heading into 2014, we acknowledged that we did not expect any material changes to the operating environment this year," said McDonald's CEO Don Thompson. "As such, full year 2014 global comparable sales are expected to be relatively similar to year-to-date June performance, with July global comparable sales expected to be negative. While near-term results are expected to remain muted, sizable growth opportunities remain, and we are committed to pursuing these opportunities through continuous improvement in everything we do - from the food we serve, to our engagement with our customers, to the management of our financial resources."
Keep up to date on all the important releases this earnings season with Money Morning's Q2 earnings calendar...
Related Articles:
Tags:
$CMG
,
Chipotle earnings
,
Chipotle Stock
,
CMG earnings
,
CMG stock
,
earnings calendar
,
KO
,
KO stock
,
MCD
,
MCD stock
,
NYSE: CMG
The post Chipotle Stock (NYSE: CMG), Earnings Crush KO and MCD in Food Co. Battle appeared first on Money Morning - Only the News You Can Profit From.