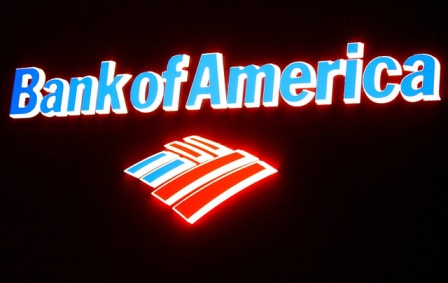 Bank of America Corp. (NYSE: BAC) reported Q2 earnings this morning (Wednesday) that were dragged down by mounting litigation costs in addition to a decline in mortgage originations.
Second-quarter earnings from big banks have so far mostly surpassed estimates, but investor reactions have been mixed.
Wells Fargo & Co. (NYSE: WFC) kicked off Q2 bank earnings season on Friday. The fourth-largest U.S. bank by assets managed to boost earnings and meet analyst estimates by ramping up its credit card and car-lending units. The move offset a dip in its mortgage arm. Shares were modestly lower following the report - although Wells didn't deliver any surprises, its numbers failed to impress.
Citigroup Inc. (NYSE: C) posted better than expected earnings on Monday. The New York-based bank reported a profit of $181 million, or $0.03 per share, in Q2. Stripping out a $3.8 billion charge related to a deal with the U.S. Department of Justice, Citi's earnings per share (EPS) of $1.24 topped the $1.05 analysts projected. Shares ended the day up $1.42, or 3%, to $48.42.
JP Morgan Chase & Co. (NYSE: JPM) on Tuesday reported Q2 EPS of $1.46 versus $1.29 expected by analysts. Revenue for the largest U.S. bank came in at $25.3 billion versus consensus estimates of $23.86 billion. Shares finished the day at $58.27, up $1.98, with volume at a 3-month high.
Finally, Goldman Sachs Group Inc. (NYSE: GS) also posted a strong earnings beat on Tuesday. The investment powerhouse particularly impressed with a sharp rise in its investing and lending units. Goldman shares jumped 1.69% to $169.98 on the news.
Wednesday brought numbers from some key sector players, including beleaguered Bank of America (NYSE: BAC) and a couple major regional banks.
Let's first take a closer look at how BofA fared and how reported Q2 earnings affected BAC stock today...
Bank of America's (NYSE: BAC) Positive Results Take Back Seat to Legal Woes
Bank of America Corp.'s (NYSE: BAC) mostly positive results were overshadowed by large legal expenses, which have been a drag on the second-largest U.S. bank for five years.
BofA earned $0.19 a share, or $2.04 billion, in Q2. Expectations were for EPS of $0.29 per share, but that estimate didn't take into account large litigation outlays. Revenue of $21.75 billion came in ahead of the $21.61 billion analysts had forecast.
Legal expenses wiped out a substantial amount of BofA's profit. The Charlotte, N.C.-based bank paid $4 billion in legal expenditures in Q2, up from $471 million a year earlier, but down from $6 billion in Q1.
The bank, which has already agreed to pay more than $50 billion to settle disputes stemming from the 2008 financial crisis, is negotiating a multibillion-dollar settlement with the Department of Justice to resolve investigations into the sale of mortgage-backed bonds. BofA has reportedly offered to settle for about $12 billion; the Justice Department wants $17 billion.
Chief Executive Officer Brian T. Moynihan attempted to downplay the bank's legal woes with an optimistic tone.
"The economy continues to strengthen, and our customers and clients are doing more business with us," Moynihan said in a statement. "Among other positive indicators, consumers are spending more, brokerage assets are up by double digits, and our corporate clients are increasingly turning to us to help finance business expansion and merger activity."
BAC shares, which have barely budged this year, slipped some 2% to $15.46 in mid-morning trading.
Other banks reporting earnings today had mostly positive news to share...
Regional Banks Including PNC, USB Beat Analyst Expectations
U.S. Bancorp's (NYSE: USB) Q2 profit increased modestly, as the largest U.S. regional bank by assets posted higher revenue and loan growth.
The Minneapolis-based bank earned $1.5 billion, or $0.78 per share, in Q2, up from $1.48 billion, or $0.76 a share a year earlier. Revenue rose 4.9% to $5.19 billion. The results comfortably beat expectations of EPS of $0.77 on revenue of $4.94 billion.
Loan totals grew 6.8% to $240.5 billion, with residential mortgages rising 10.5% and commercial loans increasing 14%.
It's that robust loan growth coupled with heavy investments in business-related payment processing and trust services that have helped USB's stock outperform many of its peers during the last year.
USB shares rose a few cents to $43.49 in morning trading, just shy of its 52-week high of $43.92.
PNC Financial Services Group Inc. (NYSE: PNC) reported Q2 EPS of $1.85 on Wednesday, handily above Wall Street estimates of $1.78.
Net income from the Pittsburg-based bank came in at $1.05 billion, down slightly from $1.12 billion a year ago. Revenue was also light year over year, dipping 6% to $3.8 billion.
Chairman, President, and CEO William Demchak summed up the quarter with an upbeat outlook. "We delivered solid earnings in the second quarter of 2014. We grew loans, our fee businesses performed well, expenses were well-managed, credit quality continued to improve, and capital levels strengthened. While our near-term outlook is for a continuation of the low-interest rate environment, we are making important progress on our strategic priorities, which we expect will benefit our long-term performance."
Northern Trust Corp.'s (Nasdaq: NTRS) Q2 profit was tempered by $42.3 million in charges. But Chicago's biggest locally headquartered bank otherwise beat earnings expectations.
NTRS earned $0.75 per share, or $181.9 million in Q2, compared with $191.1 million, or $0.78 per share, in the same period a year ago. Excluding charges related to severance pay, as well as charges related to reducing office space and writing off software, Northern Trust would have earned $209.9 million, or $0.87. Analysts were expecting $0.84.
"Our business continued to expand in the second quarter as trust, investment, and other servicing fees, which represent 65% of revenue, increased 8% compared to last year and assets under custody and under management increased 20% and 15%, respectively," Frederick H. Waddell, chairman and CEO, said in a statement.
Thursday brings earnings from Morgan Stanley (NYSE: MS). The New York-based investment bank is expected to report Q2 EPS of $0.56, up from $0.45 in Q1 of 2013. The recent boom in mergers and acquisitions, as well as a busy IPO calendar, is anticipated to have juiced Morgan Stanley's numbers. Morgan Stanley, along with Goldman Sachs, sits at the top of Reuters' 2014 list for equity issuance.
Next, Money Morning's Shah Gilani on Big Bank Misdeeds: Someone from the Fraud Machine Known as Bank of America (NYSE: BAC) Needs to Go to Jail
Tags:
(
NYSE: BAC
),
BAC earnings
,
BAC Stock
,
Bank of America earnings
,
Bank of America Stock
,
big bank earnings
,
earnings calendar
The post Bank of America (NYSE: BAC) Rounds Out Big Bank Earnings – Here's What We Know appeared first on Money Morning - Only the News You Can Profit From.