Wells Fargo & Co. (NYSE: WFC) kicked off second-quarter bank earnings season Friday morning. While the bank didn't deliver any surprises, its numbers failed to impress.
Shares of the largest U.S. bank by market cap, up 28.5% since October, fell nearly 2% to $50.82 on brisk volume following the uninspiring report.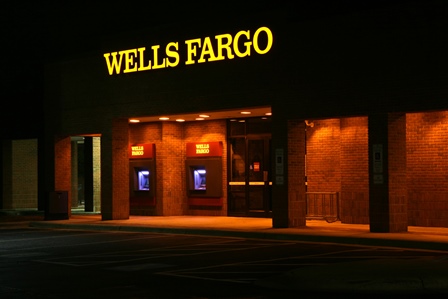 Market participants appreciate Wells Fargo's earnings and revenue consistency. It's a stock market darling among bank investors, because it avoided sizable losses during the financial crisis, as well as the wrath of regulatory penalties that have plagued the industry. Indeed, that's part of the reason why Wells is a top holding of legendary investor Warren Buffett.
While analysts have trimmed estimates on a number of banks in the last several weeks, expectations for WFC held steady.
Instead of focusing on trading, which is likely to show sharp declines when peers report, Wells generates the bulk of its revenue from less exciting businesses, like commercial and consumer lending, an area rivals backed away from in the wake of the financial crisis. It was those segments that helped Wells Fargo post Q2 earnings per share (EPS) of $1.01, right in line with consensus estimates.
While up from EPS of $0.98 a year ago, it was down from EPS of $1.05 earned in Q1 2014. Revenue, meanwhile, slipped 1.5% to $21.07 billion. That was, however, better than the $20.85 billion analysts were expecting.
Even though second-quarter profit rose 3.8% year over year (YOY), and Q2 net income increased to $5.73 billion up from $5.52 billion, it was the first time since 2009 the San Francisco-based bank failed to top the prior quarter's EPS.
Still, the uptick in profit was Wells' 16th consecutive quarter of YOY growth, according to FactSet.
As the nation's largest mortgage lender, Wells has about 28% of U.S. home loans, or one in six. Recognizing the impact of rising interest rates, which caused a slowdown in new home loans, Wells was quick to counter a mortgage revenue dip. To offset a shortfall in its mortgage arm, Wells grew its credit card and auto-lending business. The bank also expanded its investment banking and retail wealth management units
Wells Fargo Chief Executive Officer John Stumpf touted the moves.
"Our strong results in the second quarter reflected the benefit of our diversified business model," Stumpf said in a statement. "Our results also reflected strong credit quality driven by an improved economy, especially the housing market. By continuing to serve customers we grew loans, increased deposits and deepened our relationships."
Following are key highlights from the report.
Wells Fargo Q2 Review
Wells Fargo net interest margin - a key profitability figure that measures the difference between what a bank makes on lending and what it pays depositors - narrowed to 3.15%. That was down from 3.4% YOY and 3.2% quarter over quarter.
Home lending originations amounted to $47 billion, up from $36 billion in the prior quarter but down substantially from $112 billion a year ago.
Mortgage banking noninterest totaled $1.72 billion, down 39% YOY.
Some $217 billion was set aside to cover bad loans, down 67% from a year ago.
The bank's reserve release stayed firm at $500 million from both the year earlier and the prior quarter. Banks typically release reserves as credit conditions improve and they feel less need to hold reserves against potential loan losses.
Lending was lucrative in Q2, especially in the auto segment. Car and truck loans jumped 11% YOY to $54.1 billion.
Total loans grew 3.6% YOY to $828.9 billion.
The bank was successful at keeping costs in check. Noninterest expenses came in at $12.19 billion, down from $12.26 billion a year ago but up from $11.95 billion in Q1. Wells and most banks have been keenly focused on cutting expenses as lethargic revenue growth makes it much more difficult to report strong profits.
In spite of today's dip, WFC stock is up more than 13% year to date.
Next week brings earnings reports from a trio of key banking behemoths.
Citigroup Inc. (NYSE: C) is on tap to post 2Q results Monday before the opening bell. The New York-based banking giant is expected to post EPS of $1.06. Closely watched will be how Citi explains its plans for weathering the $7 billion mortgage settlement it is currently facing for allegedly defrauding billions of dollars' worth of mortgage securities prior to the 2008 financial crisis.
JP Morgan Chase & Co. (NYSE: JPM), reporting Tuesday before the open, is expected to post EPS of $1.29 a share. Investors will be especially listening for word about the health of the company's trading unit, as well as the health of its CEO Jamie Dimon. Dimon recently revealed he has treatable throat cancer. Investors want to know that succession plans, when and if needed, are in place.
Bank of America Corp. (NYSE: BAC) reports Wednesday before the market's open. Expectations are for BAC to report EPS of $0.29. Market participants will be watching for how much BofA says it has set aside for legal costs. The Charlotte, N.C.-based bank surprised investors last quarter with news it had added $2.4 billion to its legal reserves. Also of interest will be any word of a long anticipated dividend hike. It's been 5 years since BofA boosted its dividend, which now sits at a penny a share.
Don't Miss Today's Top Story: For small caps, finding the right leader can prove to be a critical "spark" to massive profit - so follow these three easy steps to identify the next winner, ahead of the "big boys"...
Related Articles:
Tags:
Bank earnings
,
earnings calendar
,
earnings season
,
NYSE: WFC
,
wells fargo stock
,
WFC
,
WFC stock
The post Wells Fargo (NYSE: WFC) Starts Big Banks Earnings Season with a Profit Rise and Revenue Drop appeared first on Money Morning - Only the News You Can Profit From.