Q2 2014 Earnings Calendar: The unofficial start to earnings season launches today (Tuesday) with Alcoa Inc. (NYSE: AA) reporting second quarter numbers after the close.
As earnings season kicks off, the big question on Wall Street is if stocks, trading at their highest level in seven years when compared with expected earnings, can keep rising. A slew of disappointing earnings reports could dent this rally.
Investors shrugged off tepid Q1 results, blaming the lackluster showing on harsh winter weather that blanketed much of the United States. Investors, however, aren't expected to be as forgiving if Q2 numbers disappoint. Investors will want to hold on to gains, and could move quickly to lock in profits if markets appear poised for a dip amid soft earnings.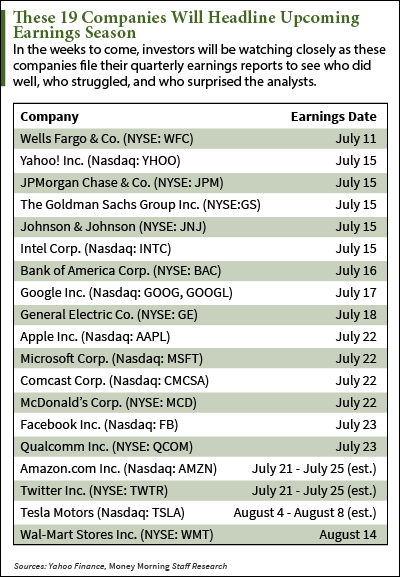 "We're at the point in the cycle where earnings have to come through," Jim Russell, Senior Equities Strategist for U.S. Bank Wealth Management, told CNN Money. "This is a little bit of a nail biter to justify and rationalize where the markets are right now."
Profits for S&P 500 companies are seen growing 6.2% in the second quarter, according to Thomson Reuters data, down from the 8.4% growth forecast at the start of April. Revenue is expected to rise 3%.
Yet stocks are getting a bit pricey. The S&P 500 is trading at roughly 15.7 times expected earnings for the next 12 months. That's the highest level since 2007 and above its average 13.9 times over the last decade, data from FactSet reveals.
As the numbers start to roll in, analysts and investors will scour earnings per share (EPS), revenues, profits, and sales. Close attention will be paid to "discretionary" stocks (retailers, restaurants, and leisure companies) for any signs of a pickup in consumer spending.
Key will be if the recent spate of data - from a recovering (yet uneven) jobs market to rising home prices to improving consumer confidence - translates into rising corporate profits.
Just four companies in the S&P 500 post earnings this week, with Alcoa going today after the bell. The aluminum maker has beat estimates in eight of the last 10 quarters. Alcoa is expected to report EPS of $0.12 a share for the quarter ending June 30, up from $0.07 the same period a year ago. Revenue is projected to be down 4.1% from the year-ago quarter to $5.63 billion.
The bulk of reports flood in during the weeks of July 21 and July 28, with big retailers reporting in August. Following are a few key earnings reports to watch.
2014 Earnings Calendar: Five Q2 Reports to Watch
Wells Fargo & Co. (NYSE: WFC) reports results Friday before the open. Expectations are for the San Francisco-based bank to post EPS of $1.01, up from $0.98, or 3%, in the same quarter a year ago. As the country's biggest mortgage lender, analysts will be particularly focused on WFC's lending unit to see if an uptick in interest rates has had an effect.
JP Morgan Chase & Co. (NYSE: JPM) is on tap to release Q2 earnings Tuesday, July 15, before the open. The N.Y.-based bank is expected to report EPS of $1.30, a 19% decline year over year. JPM shares slumped 3% in April after a rare earnings miss. In May, JPM warned that revenue from its trading arm was likely to drop 17% in the quarter. Additionally, JPM faces a number of headwinds on the regulatory front as officials review the way it and other banks calculate their "risk weighted" assets.
Apple Inc. (Nasdaq: AAPL) is set to report fiscal Q3 earnings on Tuesday, July 22, after the closing bell. The iPhone maker is expected to post EPS of $1.22 a share. Analyst expectations have increased significantly as the announcement date nears. Wells Fargo analyst Maynard Um told investors last week he saw substantial improvement in Apple's gross margins. Apple forecasts Q3 revenue of $36 to $38 billon with 37% to 38% gross margins. Investors will be listening for word of Apple's highly anticipated iWatch and what it has planned for its newly acquired music unit, Beats.  
Facebook Inc. (Nasdaq: FB) posts results on Wednesday, July 23, after the close. Forecasts are for the social network giant to have earned $0.32 per share in Q2. FB turned in blockbuster results in Q1, and investors hope the company has kept the momentum going. While FB has shown it has mastered monetizing mobile, mobile ad revenue will be carefully securitized. User count, international growth, and privacy issues will also be paid close attention to.
Wal-Mart Stores Inc. (NYSE: WMT) reports results on Thursday, Aug. 14 before the open. Forecasts are for the world's largest retailer to earn $1.21 a share. WMT disappointed Wall Street in May with uninspiring Q1 results, earning $1.10 per share, a nickel shy of estimates. Weather was blamed for the shortfall. In a cautionary note, CEO Bill Simon said on Tuesday that a recovering job market isn't giving consumers enough confidence to boost their spending.
The U.S. government engages in Ponzi finance every day since it is incapable of repaying the more than $17 trillion it has borrowed. But thiscould be the biggest Ponzi finance scheme of all time...
Related Articles:
Tags:
2014 earnings calendar
,
AA
,
AAPL
,
earnings 2014
,
earnings calendar
,
earnings reports
,
earnings reports 2014
,
FB
,
JPM
,
Q2 2014 earnings
,
Q2 earnings
,
Q2 earnings reports
,
WMT
The post Earnings Calendar for Q2 2014: Five Key Players to Watch appeared first on Money Morning - Only the News You Can Profit From.