Stocks today were all up - the Dow Jones Industrial Average hit a new intraday high and the Standard & Poor's 500 Index hit its 16th record high of the year.
Here's the scorecard from today's trading session:
DOW: 16,737.53, +0.1%
S&P 500: 1,927.86, +0.2%
NASDAQ: 4,251.64, +0.4%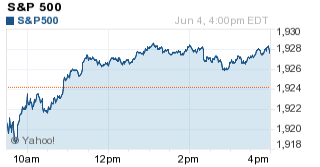 Now the top stories about the economy and stocks today:
Sunny Outlook from the Fed:

The Federal Reserve's Beige Book reported this afternoon that economic growth increased in all 12 Federal Reserve districts. Though the pace of growth was termed "moderate" to "modest" in the report, the update is positive for the U.S. economy, while use of the word "weather" decreased by more than two-thirds in this update. A consensus of economists expects the Federal Reserve will continue to cut its bond-purchasing program and maintain low interest rates during its upcoming meeting in two weeks.

Positive News in Jobs:

Despite the ADP forecast coming in below expectations this morning, the economy got some good news in small business hiring. According to Intuit, companies with fewer than 20 employees added 35,000 jobs in May. This is the single biggest monthly jump in more than 12 months.

Shaking a Legg: Legg Mason Inc.

(NYSE: LM) was among the stocks today on the rise with LM shares up more than 1.5% on news that it was selling its investment advisor business to

Stifel Financial Corp.

(NYSE: SF). The Legg division manages more than $9 billion in assets. Legg Mason is directing its business to emphasize services toward retail investors.

The Rise of Alternative Energy:

Shares of

SunPower Corp.

(Nasdaq: SPWR) popped more than 7% on two major developments. First, the United States has decided to levy a duty on Chinese solar products, which is positive for U.S. manufacturers. Second,

NV Energy

Inc.

nominated the solar company to build a 19-megawatt solar photovoltaic power system at Nellis Air Force Base in Nevada.

Today's Big Winner:

Stocks today with the biggest gains included

Protective Life Corp.

(NYSE: PL), which surged more than 18% after Japan's

Dai-ichi Life Insurance Co. Ltd.

(OTC: DCNSF) agreed to purchase the insurance company for $5.7 billion. This morning,

Barclay's Plc

(NYSE ADR: BCS) announced it had raised Protective Life's price target from $58 to $70.

Death of the American Dream:

It's not looking good these days for the American Dream. A new

CNN

poll states that 59% of Americans believe the American Dream is out of their reach. The poll showed that young adults were the most pessimistic, while 63% of people believe that the younger generations will lead more difficult lives than their parents' did.
Now our experts share some of the most important investment moves to make based on today's market trading - for Money Morning Members only (if you are not already a Member, sign up for free right now and get access to our 30 market analysis reports for 2014):
This Is Like Investing in

China

... In 1980:

A potential sea change is underway in India. And with a new, impressive prime minister, and a burgeoning consumer population, they're setting up as the next economic miracle... Here's how to make big profits from this nation's coming surge...

The Next Trillion-Dollar Mortgage Meltdown May Be Coming:

The fourth securitization deal of big investor-owned single-family homes for rent is here. Is this just another Wall Street gamble that will wreck the economy again, or is this time different? You be the judge. But Shah will tell you where he stands... and more important, how to protect yourself...

This Defense Tech Play Is Scorching the Market:

Many investors believe that with our presence in Iraq largely gone, defense firms will offer mediocre returns at best. But our Defense & Tech Specialist Michael A. Robinson is not buying into it. He says massive profit opportunities are still there. In addition, the market and the government are lining up behind them...
Access your Money Morning Member reports here.
Tags:
dow
,
investing in 2014
,
Investing in the stock market
,
Investing Today
,
market crash
,
market news
,
market news 2014
,
market today
,
S&P 500
,
Stock Market
,
stock market 2014
,
stock market crash
,
stock market crash today
,
stock market news
,
stock market news 2014
,
stock market news today
,
stock market now
,
Stock Market Today
,
stock market trend
,
stock market trends 2014
,
stock market trends this week
,
stock news
,
stock news 2014
,
Stocks
,
stocks 2014
,
Stocks to Buy
,
Stocks Today
,
U.S. Economy
,
Wall Street
The post Stocks Today Break Records Again – Here's the Top News appeared first on Money Morning - Only the News You Can Profit From.