As we explained yesterday, some feistiness was expected at Facebook Inc.'s (Nasdaq: FB) second annual shareholder meeting. And the meeting delivered...
The FB shareholder meeting was held Thursday afternoon at the Sofitel San Francisco Bay, with an interesting group in attendance. Making an appearance was civil rights activist and minister the Rev. Jesse Jackson, a spirited nun, and a handful of passionate adults making cases for specific agends. But, it was Founder and Chief Executive Officer Mark Zuckerberg that took center stage for the majority of the get-together.
One theme of the meeting, according to Mashable, was investors giving thanks for FB's stock turnaround.
"I want to congratulate all of you that have worked so hard to pull up your stock," an investor named Rose said at the meeting. FB stock is up 60.5% from its $38 IPO price.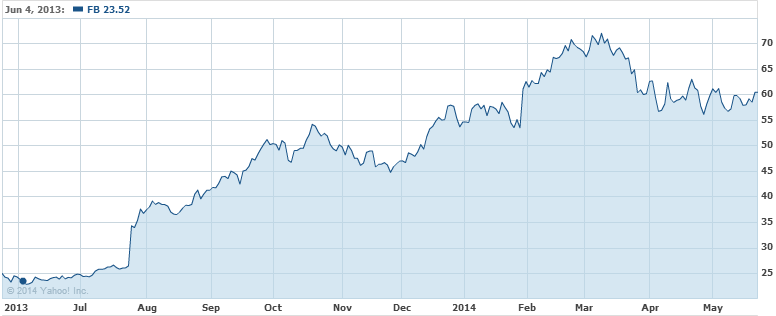 The FB meeting also focused on addressing growing concerns over members' privacy amid the bevy of recent changes on the social network's site. The company said it will make it easier for users to share less. Facebook is changing the default setting for new users (unfamiliar with how the site works) to friends only, instead of public. In addition, Facebook is making it easier for its 1.28 billion current users to monitor and tweak their privacy setting.
"We think this is taking our responsibility seriously to make sure people have control over who they are sharing with," Zuckerberg said. "Over time, we think that is going to serve everyone who is using Facebook better and help us achieve our long-term goals."
The announcement came just weeks after Zuckerberg reported Facebook would allow users to interact anonymously with third-party apps. Whether it's a change of heart or a strategic move to keep its user base strong, fend off rivals, and preempt government regulators, the move was welcomed warmly.
"They've realized that if they want to continue to be successful, they have to focus on the user experience, and they've realized that users want some level of privacy," said Shyam Patil, a vice-president at Wedbush Equity Research. "They also want to self-regulate so the government doesn't get involved. It does seem like the government is getting more and more involved in privacy issues."
Shareholders were also given the opportunity to address their own issues, some of which seemed out of Facebook's realm. But given FB's size and scope, all were deemed within the company's reach and fervently pitched.
Here are some memorable moments from the meeting.
Five Highlights from FB's 2nd Annual Shareholder Meeting
Jesse Jackson was first up at the microphone during the Q&A session. He used the time to press Facebook about the lack of minorities and women in Silicon Valley, most notably at the executive level. "Technology is supposed to be about inclusion, but sadly, patterns of exclusion remain the order of the day," Jackson said. Not signaling out Facebook on the issue, Jackson showed up at Google Inc.'s (Nasdaq: GOOG, GOOGL) shareholder meeting last week.
A nun rose and reprimanded Facebook for not properly disclosing its lobbying practices. The Sister had a good point. During Q3 2013 alone, Facebook reported spending $1.4 million on lobbying. FB's big priority in Washington last year was the controversial immigration bill. More specifically, the part of the bill that opens the gates wider to tech workers from overseas. Facebook's response: "Thank you, Sister."
One woman pleaded with Facebook to help with the fight against childhood obesity, which has grown to epidemic proportions. Indeed, childhood obesity has more than doubled in children and quadrupled in adolescents in the past 30 years, according to the Centers for Disease Control and Prevention.
One man suggested Facebook should form a committee to "boycott Israel." The recommendation drew loud heckles and boos from the some 300 people in attendance.
Another gentleman presented an envelope for Chief Operating Officer Sheryl Sandberg. The contents were not divulged.
One notable change from last year: Shareholders were in a much better mood than at 2013's gathering, when FB stock was flailing in the mid-$20 range.
Friday afternoon, FB shares were up 1% at $61.29.
"Blockbuster" drugs can bring billions of dollars in revenue to pharmaceutical companies, and huge gains to investors. Here are the four telltale signs of a bioscience blockbuster in the making...
Related Articles:
Tags:
facebook earnings
,
facebook earnings 2014
,
Facebook IPO
,
Facebook Stock
,
facebook stock 2014
,
Facebook Stock Price
,
facebook stock price 2014
,
facebook stock price today
,
FB
,
fb earnings
,
fb earnings 2014
,
fb earnings today
,
fb stock
,
FB Stock Price
,
fb stock price 2014
,
investing in facebook
,
Investing in FB
,
investing in social media
,
Nasdaq: FB
,
social media IPOs
,
tech investments
,
tech stocks
The post Facebook Inc. (Nasdaq: FB) 2nd Annual Shareholder Meeting Highlights appeared first on Money Morning - Only the News You Can Profit From.