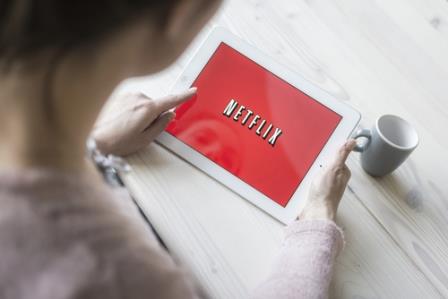 Netflix Inc. (Nasdaq: NFLX) stock is up 6.45% in after-hours trading today (Monday) after the company beat Wall Street estimates for Q1 2014 earnings after the closing bell.
Netflix earnings per share (EPS) came in at $0.86 per share on sales of $1.27 billion. Consensus estimates had projected revenue of $1.27 billion, but EPS $0.03 lower at $0.83, according to Thomson Reuters.
The online streaming company said it will increase membership prices for new subscribers by $1 to $2 later this quarter and that current Netflix members would stay at the existing fee for "a generous time period."
"These changes will enable us to acquire more content and deliver an even better streaming experience," Netflix Chief Executive Officer Reed Hastings and Chief Financial Officer David Wells wrote in a letter to shareholders today.
Despite the beat, tough comparisons to last year continue to cast doubts on the company's future growth.
Netflix stock was one of the biggest winners of 2013, gaining more than 312% for the year. It earned the online streaming company the title of last year's best-performing stock in the S&P 500.
But the gains have not been repeated in 2014. NFLX stock has since pulled back, dropping more than 10% in January.
Still, that doesn't mean investors should run from NFLX stock. Since this time last year, the company has notched a 113% gain - and Money Morning's Defense & Tech Specialist Michael Robinson sees Netflix as a "game changer."
Here's the key to today's earnings - and why Netflix stock will continue to make gains in 2014...
This Number Points to NFLX Stock Gains
The key number investors should watch to evaluate Netflix's health is subscriber growth. That figure tells investors how well the company is dealing with its online streaming competitors. It's also indicative of Netflix's success in breaking into international markets and across various platforms like mobile.
Using that metric, here's how NFLX is doing...
Today, Netflix revealed it has 48.35 million subscribers across the globe - an addition of almost 4 million members this quarter.
U.S. subscribers reached 35.7 million in Q1, up 2.25 million from the prior quarter. Net additions were 0.22 million more than the same quarter a year before, showing a pickup in growth rate.
International subscriber growth in Q1 was also strong. Membership grew by 1.75 million, bringing the company's international total to 12.7 million members. That's 72% more net additions than prior year Q1.
"International revenues currently amount to 25% of our total streaming revenue and we anticipate our international segment to eventually surpass our U.S. market, similar to other Internet firms," Hastings and Wells wrote in a letter to shareholders today. "We are approaching 50 million global members, but that is far short of HBO's 130 million. We are eager to close the gap."
Netflix remains the top online video streaming company, despite increased competition from YouTube, Hulu, Yahoo!, and Amazon.
Digital business analytics firm ComScore published January and February U.S. traffic trends, revealing strong numbers for Netflix's first quarter:
Netflix saw 56% growth in average monthly mobile unique visitors for its U.S. website during Q1 2014. That's 6% more than its 50% growth in the Q4 2013.
Total mobile minutes increased to 82% year over year, compared to 71% in the fourth quarter.
Netflix's average desktop unique visitors declined 3% in the first quarter, but competitor Hulu saw a 30% drop, comparatively.
Netflix

NASDAQ: NFLX

Apr 21 04:06 PM

loading chart...

Price: 348.49 | Ch: 2.75 (0.8%)
For the rest of 2014, investors should continue to keep a close eye on subscriber growth as the strongest indicator of NFLX's condition.
Additionally, innovations such as more original content, and Netflix's "4K" ultra-high-definition technology, first presented at the 2014 Consumer Electronics Show in January, will drive the stock this year.
NFLX stock has boomed more than 4,000% since it went public in May 2002. Shares remained relatively flat today until earnings, then saw increased trade volume and gains in after-hours trading.
Today's Top Investment Story: As the U.S. leads the charge to impose sanctions on Russia, opportunities are popping up for investors who understand the consequences...
Tags:
(
Nasdaq: NFLX
),
best tech investments
,
Investing In Netflix
,
netflix earnings
,
Netflix Stock
,
netflix stock 2014
,
netflix stock price
,
netflix stock price today
,
netflix stock today
,
NFLX earnings
,
NFLX Stock
,
tech investments
The post The One Number Signaling Netflix (Nasdaq: NFLX) Stock Will Soar in 2014 appeared first on Money Morning - Only the News You Can Profit From.