The demise of momentum stocks, or Facebook Inc. (Nasdaq: FB) stock at least, appears to be greatly exaggerated.
Shares of Facebook, a notable momentum stock over the last 12 months, spiked $4.22, or 7.3%, to $62.41 Wednesday. The move marked the stock's best one-day gain since Jan. 30.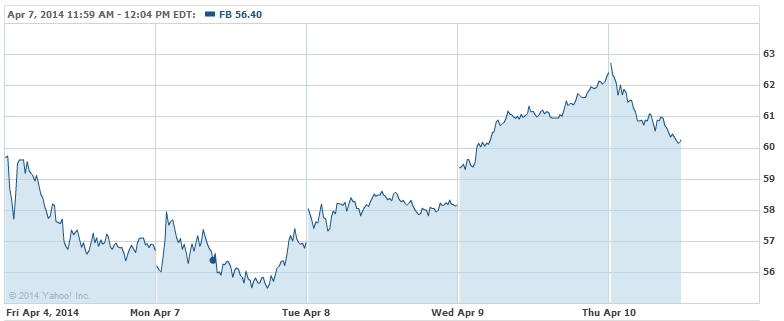 Over the last three months, shares of the social networking leader are up 9%. Year to date, they have logged gains of 14.2%. FB shares were up more than 25% earlier this year, but slipped along with other high-growth stocks over the last few weeks amid a notable shift from growth to value.
Giving Facebook shares a boost Wednesday were bullish comments from several Wall Street firms:
JP Morgan analyst Doug Anmuth said the "swift and significant" broad market sell-off has "created some attractive opportunities" for a few high-profile Internet names like Facebook. Facebook stock is down nearly 16% since reaching a high of $72.59 on March 11, but Anmuth said it's still early on in Facebook's aim of monetizing its 1.2 billion global users. Anmuth added that factors such as increasing advertiser demand and improvements in ad quality should drive growth rates that Facebook can sustain for some time to come.
Susquehanna Financial Group reiterated its "Positive" rating on Facebook, saying it expects the social network leader to easily surpass Q1 estimates when FB releases results after the close on Wednesday, April 23. Current estimates are for FB to post earnings per share of $0.24 a share. The investment house said Facebook's "traction with brands is growing." Susquehanna added the decline in FB stock since it hit an all-time high last month offers a buying opportunity.
SunTrust, which has a "Buy" on Facebook, said an exec with Facebook ad software provider Nanigans said that Facebook's Q1 ad spending was "stronger than expected when entering the quarter."
More bullish brokerage comments followed Thursday:
Pivotal Research upgraded FB stock to "Buy" from "Hold" and hiked its price target to $72 from $66.
Deutsche Bank increased its price target by $1 to $76.
Earlier in the week, Stifel Nicolaus said the recent pullback in Facebook stock presents a good opportunity for investors to pick up shares.
Also on Tuesday, Piper Jaffray said that Instagram (owned by Facebook) is the top social site for teens. The firm came to the conclusion after conducting a survey of 5,000 teens in the average to upper income bracket.
Of the industry experts that follow the stock, four have an "Overweight" rating on the stock, 32 have a "Buy," and nine maintain a "Hold." There are no "Underweights" or "Sells," according to data from The Wall Street Journal.
Here's what's been boosting analysts' optimism over the last couple of days...
Why Facebook (Nasdaq: FB) Stock Is So Loved Right Now
The social networking behemoth reported Wednesday that it now has 100 million users in India, making it the second country after the United States to reach that milestone. "Now, we look forward to 1 billion in India - that's a different focus and challenge," Javier Olivan, the FB official in charge of global growth, told the

Economic Times

.
The company also said Wednesday it would be making some adjustments to its privacy settings, which have been a concern to many users.
Chief Operating Officer Sheryl Sandberg told

NBC's

"The Today Show" on Wednesday that contrary to rumors, she is staying at Facebook. "I love my job [at Facebook]. I love what we do every day to connect the world and I love being able to work on 'Lean In' (teaching young women to navigate the world) in my personal time." Chatter has swirled that Sandberg is considering a political run. The buzz picked up after she recently sold some 7 million FB shares. According to FactSet, Sandberg still holds a hefty 10.6 million shares.
And in a significant claim to fame, Facebook Inc. became the fastest-ever company to reach a $150 billion market cap after its share price more than doubled in 2013. FB stock hit an all-time high of $72.59 last month.
Shortly before noon Thursday, with the tech-heavy Nasdaq down a steep 1.65%, Facebook stock was trading at $60.97, off 2.28%.
Just-Released: The true winners in the IPO market aren't the big names that are hyped up by the mainstream media outlets. Here's a guide on what to buy - and when to buy.
Related Articles:
Tags:
facebook earnings
,
facebook earnings 2014
,
Facebook IPO
,
Facebook Stock
,
facebook stock 2014
,
Facebook Stock Price
,
facebook stock price 2014
,
facebook stock price today
,
FB
,
fb earnings
,
fb earnings 2014
,
fb earnings today
,
FB share price
,
FB shares
,
fb stock
,
FB Stock Price
,
fb stock price 2014
,
investing in facebook
,
Investing in FB
,
investing in social media
,
Nasdaq: FB
,
social media IPOs
,
tech investments
,
tech stocks
The post Why Wall Street Loves Facebook (Nasdaq: FB) Stock Right Now appeared first on Money Morning - Only the News You Can Profit From.