Why the sudden slip in Facebook (Nasdaq: FB) stock?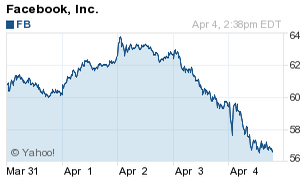 Shares of the social networking leader slipped some 5% intraday Friday to $56.50. That followed a 5.15% drop on Thursday. The recent slump has nearly wiped out all of 2014's gains and leaves shares close to FB's Jan 2 opening price of $54.83.
While FB shares are still up a modest 5% year to date, they sit roughly 20% off the highs hit less than a month ago.
Fueling gains early this year was a string of acquisitions, some good and some questionable.
During a bold multi-billion-dollar shopping spree, FB spent close to $22 billion over a two-month period on a trio of businesses.
First was the Feb. 20 purchase of mobile messaging company WhatsApp for $19 billion. Next came the $60 million deal to by satellite drone maker Titan Aerospace on March 4. Then on March 25, FB ponied up $2 billion to buy Oculus, a virtual hardware company.
All fall under Chief Executive Officer Mark Zuckerberg's mission of "connecting everyone in the world" and "building the knowledge economy." In short, they are whopping wagers on the future of social networking.
The purchases have been called everything from noble to strategic to gutsy. Yet all come with virtually no revenue and no profits. So, investors are left mulling the prospects of the businesses and what they bring to Facebook stock.
Right now, they don't bring much but hype.
While Facebook still has plenty of cash on the books, shares are looking expensive (yet notably less costly than two months ago). FB shares presently trade at a hefty price/earnings ratio (P/E) of 86.
And therein lies the reason for the recent sell-off.
As The Wall Street Journal wrote today, there has been a notable shift to undervalued stocks due to investor expectations that the U.S. economy is showing signs of life and thoughts that faster-growing companies like Facebook are too pricey.
That's different from 2013, when return on "growth" stocks easily surpassed cheap stocks based on earnings prospects. In the second half of last year, growth stocks gained 18%, compared to 13% for value stocks.
But things will be different in 2014, and that means changes in where investor money is moving...
Andrew Slimmon, managing director of Morgan Stanley Wealth Management's Global Investment Solutions, explained to The Wall Street Journal, "Ultimately what's happening is that the recovery is on firmer footing, and if that's the case, you'll see growth in more sectors of the economy."
Momentum Stocks Are Losing Momentum
Facebook isn't the only company to feel the pain amid a shift from growth to value. Biotech and Internet stocks - this year's momentum equities - have also been pressured.
Amazon.com Inc. (Nasdaq: AMZN) slid $15.80, or 4.71%, to $318 in afternoon trading Friday. Also slumping were shares of biotech darling Intuitive Surgical Inc. (Nasdaq: ISRG), down $24.97, or 4.62%, to $515.66, at last check. And, Netflix Inc. (Nasdaq: NFLX) dropped $15.49, or 4.37%, at $339.11 midday.
"The market hasn't rolled over, but these bigger high flyers are taking it on the chin, which suggests people are changing their ideals," Michael Matousek, head trader at U.S. Global Investors Inc. in San Antonio, told Reuters. "They [investors] don't want to be in growth names, they want to be more defensive."
Option traders, however, have stepped in to play Facebook's drop...
Option Traders Betting Big on FB Stock
Taking advantage of the fall in Facebook's stock price, option traders have placed heavy wagers on a short-term rebound.
Option market participants picked up roughly 313,000 (bullish) calls Thursday, a 16% mark-up to the stock's average daily call volume, according to Schaffer's Research. Meanwhile, put (bearish) volume was a much lower 232,000.
Near-term options were most in demand. The most heavily traded contract was the April 60 call, where more than 18,600 contracts changed hands.
Also holding firm in Facebook court, for now anyway, are the near-dozen analysts who follow the stock.
Of the 10 market experts who cover Facebook, one maintains an "Outperform" on the stock, six rate shares a "Buy," two have a "Hold," and one has a "Neural."
Biotech Investing Alert: It's not easy to find the next "blockbuster" drug, but these three questions will help you narrow your search. It's the best way to find the blockbuster that will make you rich.
Related Articles:
Tags:
Facebook
,
facebook earnings
,
facebook earnings 2014
,
Facebook IPO
,
Facebook Stock
,
facebook stock 2014
,
Facebook Stock Price
,
facebook stock price 2014
,
facebook stock price today
,
Facebook Stock Today
,
fb earnings
,
fb earnings 2014
,
fb earnings today
,
fb stock
,
FB Stock Price
,
fb stock price 2014
,
investing in facebook
,
Investing in FB
,
investing in social media
,
Nasdaq: FB
,
social media IPOs
,
tech investments
,
tech stocks
The post Why Facebook Inc. (Nasdaq: FB) Stock Is Down Today appeared first on Money Morning - Only the News You Can Profit From.