Netflix Inc. (Nasdaq: NFLX) stock was one of the biggest winners of 2013, gaining more than 312% for the year. That made it last year's best-performing stock in the S&P 500.
The stock's surge continued into March, and NFLX reached an all-time high of $458 per share on March 6. At that point, NFLX had posted a year-to-date gain of more than 25%.
That feels like a lifetime ago for NFLX shareholders.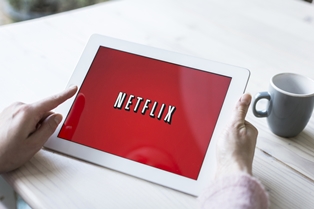 When Netflix stock dropped to an intra-day low today (Thursday) of $361.53, NFLX was staring at a monthly loss of nearly 20%. That 2.5% daily loss pushed NFLX's year-to-date return into the red at -1.2%.
As of yesterday, NFLX had posted a loss on 18 of the past 21 trading days.
Investors wondering why NFLX's performance has suddenly soured need to take a look at the video-streaming service's competition...
Netflix (Nasdaq: NFLX) Competition Heats Up
On Monday, it was reported that Apple Inc. (Nasdaq: AAPL) was in conversations with Comcast Corp. (Nasdaq: CMCSA) about a possible joint video-streaming service. According to sources, the service would incorporate Apple's "Apple TV" set-top box and would allow users to hook into Comcast's cable network, alleviating Internet streaming issues.
Online video streaming like that provided by Netflix and Apple TV can be subject to buffering issues and poor video quality during periods of heavy traffic. By using Comcast's cable network to transmit the video, those problems would be alleviated.
And Apple would have an advantage over Netflix, the world's largest video-subscription streaming company.
According to The Wall Street Journal, talks between the two companies are still in the early stages, and there are numerous obstacles they would both need to overcome.
However, the news was concerning enough to Netflix shareholders that the stock dipped almost 7% on Monday alone.
While a possible partnership between the world's most valuable company and the United States' largest cable provider could pose a challenge for Netflix, the stock's future will continue to balance on this figure...
Subscriber Growth Key to Netflix (Nasdaq: NFLX) Stock
In January, Netflix stock soared 16% when the company announced that it added 2.3 million U.S. subscribers in the fourth quarter. That was ahead of the company's own optimistic estimates of 2 million and pushed their subscriber total over 44 million members.
At the same time, NFLX officials projected adding 3.85 million subscribers in the first quarter of 2014, and that's the most important figure for investors to watch moving forward.
While Netflix remains optimistic, not all analysts feel the same way. If increased on-demand options and video-streaming competition can start eating into Netflix's subscriber growth, the stock could be in trouble.
"We continue to believe that Netflix's high valuation is somewhat unwarranted given the potential for slowing domestic growth as competition ramps up, coupled with increasing content and broadband access costs," analysts at Wedbush said.
According to analysts polled by Thompson/First Call, four rate NFLX stock as a "Strong Buy," six as a "Buy," 24 as a "Hold," 1 as an "Underperform," and three as a "sell."
It's unlikely a deal between Apple and Comcast will be struck soon, so for now it appears the competition is not a major problem. If those two companies join video-streaming services sometime in the future, that would pose an immediate risk to NFLX stock.
For now, investors should keep a close eye on subscriber growth as the strongest indicator of NFLX's condition.
Are you a Netflix customer or investor? Would you consider buying into NFLX stock at this low price? Join the conversation on Twitter @moneymorning using #Netflix.
Avoid the hype surrounding some of the new marijuana stocks, and take big profits with this industry leader...
Related Articles:
Tags:
(
Nasdaq: NFLX
),
Apple stock
,
comcast news
,
comcast stock
,
comcast stock price
,
Investing In Netflix
,
Nasdaq: AAPL
,
Nasdaq: CMCSA
,
Netflix
,
netflix news
,
Netflix Stock
,
Netflix stock news
,
netflix stock price
,
NFLX
,
NFLX Stock
The post Why Netflix (Nasdaq: NFLX) Stock Is Down 20% This Month appeared first on Money Morning - Only the News You Can Profit From.