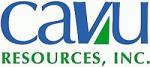 TULSA, OK -- (Marketwired) -- 03/20/14 -- CAVU Resources. Inc. (OTC Pink: CAVR) (PINKSHEETS: CAVR) (CAVU), which trades as (OTC Pink: CAVR) issued an update regarding key production, operational and corporate developments.
CAVU Resources Two, LP, Chisholm Lease - After weather related damage that caused several technical issues, equipment failures and the lease to be out of production, the company now has three wells back on line with over 3,000 barrels of oil produced in the four months prior to the shutdown. We have been replacing all damaged production equipment and installing new state of the art monitoring and security equipment with final repairs being completed this week. While it is still too early to determine the stable flow levels of the wells, initial flows have been relatively strong and as production progresses we will provide shareholder updates. The Chisholm B-3 turned out to be non productive and was plugged.
Brown Lease, Nowata Oklahoma - CAVU owns 50% of this multi-well project in the Bartlesville Zone in northeast Oklahoma. We have spent the last five months reworking and developing the existing 12 well lease; the project is being developed in three phases. Phase I called for the rework of 6 gas and injection wells, and five of the wells are completed. Four of these wells have been reworked and are producing gas and one is a disposal well. Phase II calls for the planned drilling program of 18 new oil wells with Phase III converting 6 of the existing wells into injection wells with plans to utilize an Enhanced Oil Recovery (EOR) technology protocol.
The first well of Phase II has been drilled, however harsh weather conditions throughout the Midwest forced a temporary shutdown in the Company's drilling operations. The well has been cemented, and production casing run, logged and perforated and a 450-barrel Frac was completed on Friday. The initial results showed excellent porosity and with the installation of the production equipment starting next week we will see the initial oil production results over the next 30 days. With the break in the weather, the project is back on-schedule with 4 Phase I wells currently producing gas at 30 to 40 MCF per day, and 18 additional Phase II oil wells forecasted to be operational in the coming months. Current production follows a successful revitalization program that includes access roads, tank battery and well sites; repair or replacement of electrical systems; installation of a triplex injection pump for proper wastewater disposal; and completion of a Manual Integrity Test (MIT) required for state inspection approval.
With our infrastructure now in place and our Phase I wells producing, we move into Phase II and III, where we will use proven injection methods to increase gas production, and pressure up the oil zone to support the 18 additional wells planned.
The Bartlesville zone is a sandstone layer that sourced up to 53,000 barrels of oil a day area wide during its peak production in the late 1900s. While concentrated production efforts by major oil companies has depleted some of the oil and much of the gas drive, geological data supports that much of the oil is still in place but will not move to the producing well bores without some type of energy input. According to Kim Drew, Consulting Geologist with CAVU Energy Services, Inc., "Recent core data of these old Bartlesville fields indicate that only 10 to 30 percent of the original oil in place has been produced by the initial production and years of slow pumping. The shallow depth of the sand and lack of any drive mechanism has caused from 70 to 90 percent of the oil to remain in place.
"The key to success in this area of Oklahoma is optimizing production from the many hydrocarbon-bearing zones, which includes the coal seams. With most wells encountering about a dozen zones that have known production in this area, the drilling risk is extremely low. Production rates in this area range from 2 to 5 barrels of oil per day (BOPD) per well. Initial flow rates can be higher for a short duration before settling into this range with the quality of crude being excellent (33 degrees to 42 degrees API oil). Natural gas is the fallback position in this area due to shallow Excello shale that blankets the area as do several methane gas bearing coal seams. As such, natural gas is almost always produced in a well in this area with production rates ranging from 5,000 to 200,000 cubic feet of gas per day (5 to 200 MCFD).
"Since most of this gas is produced from coal seams, initial production rates are actually lower and increase over the first few months because coal seams must "dewater," where water in place in the coal seam is brought to the surface freeing up the gas to begin coming to surface through the well bore. As a result, a typical scenario would be for a well to produce from a coal seam and after dewatering for about a month to start giving up its natural gas. The flow rate of between 950 to 1050 BTU gas will usually start around 5 MCFD and increases as the water comes off with most wells settling in around 30-50 MCFD. In the project area, there is an estimated 98% completion rate and 100% discovery of gas, making it one of the lowest risk exploration areas in the country."
Located in Nowata County, Oklahoma, this project is situated on the Northeastern edge of the Northeast Oklahoma Shelf, which has proven to be prolific in coal bed methane gas since it was developed beginning in the early 1990s. The properties are surrounded by leases operated by some of the major players in the field such as Newfield Exploration, Mid-Continent, Inc., Energy Quest Resources and Endeavor Energy.
FILO SWDW #1, LP - We completed the initial work over of the Kansas lease, but the existing well proved to be non productive and was plugged. We currently are exploring better locations to which to move our processing equipment. We have recently entered into negotiations to acquire an existing commercial well that is in the newly active Scoop Play in South Central Oklahoma. CAVU has invested $1 million in equipment and is working with private investors to complete the funding required for this acquisition.
St. Louis Lease - We recently surveyed the existing 19 well site and put together a plan for reworking and developing the lease. This lease is in the prolific Hunton oil-bearing zone and wells in the surrounding leases have averaged as much as 60 barrels a day. CAVU is in the process of forming a partnership to fund the development of this lease.
Hogshooter Lease - The Company sold this lease back to the original owners, as it was viewed as a secondary, less productive property. This transaction had a positive balance sheet effect of reducing debt and settling any outstanding issues.
Envirotek/Energy Revenue America, Inc. Note - As of December 31, 2013 due to non-payment we have decided to write down our current note due from the Energy Revenue America, Inc. to zero as it has been deemed unrecoverable. We will continue to pursue all actions to monetize our outstanding note either thru a discounted sale or exploring partnerships to assist in recovering the assets; recapitalizing and expanding the existing pipeline operations in Northeast Oklahoma.
Capital Structure Simplification - The Company has taken steps to simplify its capital structure and reduce debt. Holders of approximately $600,000 in notes have converted into limited partnership interests in CAVU Resources Two, LP (Chisholm Lease). Secondly, the Company has begun a staged process of eliminating its Preferred Series B shares. The majority of the holders have exchanged their Series B Preferred shares and all A and B shareholders have canceled the $10.00 liquidation feature. The Company and Principals intend to eliminate the remaining Series B Preferred shares in the near future. The company plans to renegotiate its existing long and short-term debt once its wells are producing positive cash flow to eliminate the balance of the Company debt.
Billy Robinson, CAVU Chairman and President, stated, "We are elated to be back in production after weather and technical issues had us shut down since Thanksgiving on both the CAVU Two ("Chisholm Lease") and the Brown lease with the final work being completed we will have both of these in production. I believe we repaired and replaced all affected equipment and our mechanical and advanced monitoring system issues are behind us. We now have effective and productive projects that will contribute to the further development of CAVU."
Louis Silver, CAVU CEO, summarized, "Our management team has been working diligently in three main areas -- oil and gas operations, capital raising, and strategic focus. Great progress has been made at CAVU Two and Brown lease, due to the relentless hard work of Billy Robinson, who endured incredibly difficult operating conditions and succeeded. We look forward to Chisholm providing significant ongoing revenue production. We are excited at the prospects of the new Brown Lease, St. Louis Lease and our future Salt Water Disposal project. Less important assets have been divested in order to focus our human resources on more productive projects. We believe that simplification of the capital structure will inure to the long-term benefit of CAVU and its shareholders. Finally, we are constantly involved in the process of securing capital funding for our projects under the best possible terms and in a manner that minimizes shareholder dilution. Rest assured that your management team's goals are consistent with its shareholders."
About CAVU Resources, Inc.
CAVU was formed with the goal of becoming a recognized regional player in the independent oil and natural gas industry by growing the company's oil and natural gas reserves. CAVU is a natural resource company engaged in the acquisition, exploration and development of oil and natural gas properties. The Company operates in the upstream segment of the oil and gas industry with planned activities including the drilling, completion and operation of oil and gas wells in Oklahoma, Kansas and Louisiana. CAVU's minority owned operating subsidiary, CAVU Energy Services, Inc., licensed Oil and Gas Operating Company manages the company's properties in Oklahoma with plans to operate targeted leases in Kansas, Texas and Louisiana. More information is available at the company's website at http://www.cavu-resources.com.
Cautionary Note:
This report contains forward-looking statements, particularly those regarding cash flow, capital expenditures and investment plans. Resource estimates, unless specifically noted, are considered speculative. By their nature, forward-looking statements involve risk and uncertainties because they relate to events and depend on factors that will or may occur in the future. Actual results may vary depending upon exploration activities, industry production, commodity demand and pricing, currency exchange rates, and, but not limited to, general economic factors. Cautionary Note to U.S. investors: The U.S. Securities and Exchange Commission specifically prohibits the use of certain terms, such as "reserves" unless such figures are based upon actual production or formation tests and can be shown to be economically and legally producible under existing economic and operating conditions.
CONTACT:
William Robinson, President
302 East 10th Street
Tulsa, OK 74120
Ph: 855-766-4695 ext 700
Email: cavu76@icloud.com

Louis E. Silver, CEO
302 East 10th Street
Tulsa, OK 74120
Ph: 855-766-4695 ext 701
info@cavu-resources.com