For Facebook Inc. (Nasdaq: FB)if you can't beat 'em, buy 'em...
In its biggest acquisition yet, Facebook announced late Wednesday it's buying mobile messaging company WhatsApp in a $19 billion blockbuster deal.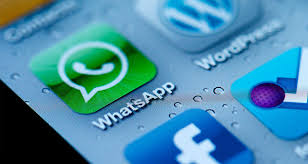 The social networking leader will pay $4 billion in cash and $12 billion in stock for WhatsApp, a rapidly growing service that boasts some 450 million monthly users and is adding more than 1 million new users daily.
The agreement also includes an additional $3 billion in restricted stock to be granted to WhatsApp founders and employees that will vest over four years upon closing of the deal.
Many industry insiders balked at the hefty price tag. As TechCrunch pointed out, WhatsApp's employee headcount is a modest 50. At 32 engineers, that amounts to a whopping $500 million per engineer.
But, Facebook sees possibilities...
What Is WhatsApp?
Founded in 2009, WhatsApp allows unlimited instant messaging subscription service for Internet accessible smartphones including Google Android, BlackBerry, iPhone, Nokia, and Microsoft Windows phones. In addition to text messages, users can send images, video, and audio files.
For all phone types, WhatsApp is free to download for the first year. Then users can extend their contracts for $0.99 per year.
On June 13, 2013, the company announced via Twitter it had reached their new daily record by processing 27 billion messages, a 100% increase year over year. According to the Financial Times, WhatsApp "has done to SMS (short messaging services) on mobile phones what Skype did to international calling on landlines."
It is indeed a growing global hit.
Some 70% of WhatsApp 450 million users send messages daily via the app, and 44% use it at least once weekly. Meanwhile, the percentage of people using Facebook Messenger once a week is 35%, according to Datawrapper.
Why Facebook (FB) Bought WhatsApp
The acquisition supports Facebook and WhatsApp's shared mission of connecting the world by delivering efficient and affordable Internet connectivity.
The combination will allow the social networking giant to expand its footprint far beyond its familiar site. Plus, it opens up more opportunities in international markets, like growing Asian markets, where Facebook has been trying to build its presence.
"WhatsApp is on a path to connect 1 billion people. The services that reach that milestone are all incredibly valuable," Facebook Chief Executive Officer (CEO) Mark Zuckerberg said in a statement.
In a note on WhatsApp blog, co-founder and CEO Jan Koum, a former Yahoo! Inc. (Nasdsq: YHOO) engineer wrote:
"Almost five years ago we started WhatsApp with a simple mission: building a cool product used globally by everybody. Nothing else mattered to us. Today we are announcing a partnership with Facebook that will allow us to continue on that similar mission. Doing that will give WhatsApp the flexibility to grow and expand, while giving me, Brian, and the rest of our team more time to focus on building a communications service that's as fast, affordable and personal as possible."
[Koum founded WhatsApp with Brian Acton - who applied for a job at Facebook in 2009 and was rejected.]
The tie-up will also help quicken growth and boost user engagement across both companies.
Benedict Evans, a partner at Andreessen Horowitz, whose co-founder Marc Andreessen sits on WhatsApp board, told the Financial Times, "With WhatsApp, they've bought the clear leader [in mobile messaging] with a massive base of users and continuing really strong growth. The elemental point is mobile is much bigger than desktop and things can happen much quicker - 30 odd guys can get 450 million users, in less than five years."
The move is reminiscent of FB's $1 billion acquisition of Instagram less than two years ago. In April 2012, Facebook bought Instagram - another rival that was eating into its audience.
WhatsApp will remain a separate entity, with its own headquarters. And, users won't notice any changes - for now. Koum gets a seat on Facebook's board.
Facebook shares fell 2.70%, or $1.84, to $66.20 in after-hours trading Wednesday. FB stock dropped 2.7% by 10 a.m. Thursday.
What's Really Happening on Wall Street: Headline news about bank settlements appears every day - but it never gives the real story, the shocking truth happening behind banksters' doors. So we did - here's the full story.

Related Articles:
Tags:
facebook earnings
,
facebook earnings 2014
,
Facebook IPO
,
Facebook Stock
,
facebook stock 2014
,
Facebook Stock Price
,
facebook stock price 2014
,
facebook stock price today
,
FB
,
fb earnings
,
fb earnings 2014
,
fb earnings today
,
fb stock
,
FB Stock Price
,
fb stock price 2014
,
investing in facebook
,
Investing in FB
,
investing in social media
,
Nasdaq: FB
,
social media IPOs
,
stocks to watch
,
tech investments
,
tech stocks
,
what is whatsapp
,
Why facebook bought whatsapp
The post Why Facebook (Nasdaq: FB) Bought WhatsApp for $19 Billion appeared first on Money Morning - Only the News You Can Profit From.