Nexus One Getting Android 2.3 "Gingerbread" Update In "The Next Few Days"?
November 08, 2010 at 02:40 AM EST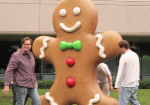 Google had originally wanted to launch the Nexus Two device alongside Android 2.3, the next release of their mobile operating system, also known as "Gingerbread". That's not going to happen . The Nexus Two has been delayed. But it appears that Google is full steam ahead on the Gingerbread release. In fact, it may be hitting the Nexus One in the next few days. This news comes by way of a tweet today from one Alvaro Fuentes Vasquez. While Vasquez's Twitter profile may not show much, his LinkedIn profile reveals that he's on the "leadership team" of the Open Handset Alliance, one of the governing bodies backing Android. In other words, this guy should know what he's talking about.